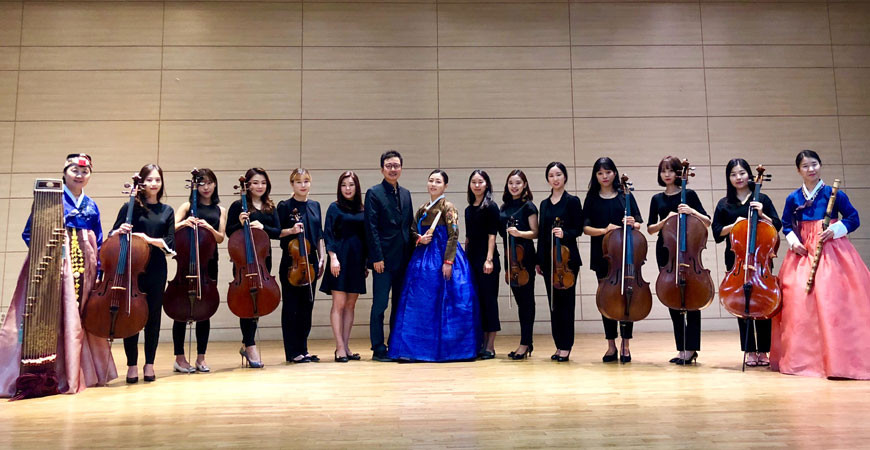 4 February 2019, 19.00-20.30
Solti Hall
Hosted in the Liszt Academy

Presented by Liszt Academy
Chamber concert by students of EWHA University from Korea and the Liszt Academy
Dohnányi: Piano Quintet No. 1 in C minor, Op. 1 – 1. Finale: Allegro animato
Brahms: Vier ernste Gesänge, Op. 121 (excerpts)
Korean traditional music on daegeum and kayagum
Brahms: Hungarian Dance No. 5 in G minor
Kodály: Evening Song (for male choir)
Michael Kibbe: Mellow Cellos Tango
Piazzolla – Michael Kibe: Libertango
Mendelssohn: String Quartet No. 2 in A minor, Op. 13 – 1. Adagio – Allegro vivace
Gounod: "Ah! je ris de me voir si belle…" – Marguerite's Jewel Song from the Faust
Mozart: "Pa-Pa-Pa-Pa-Pa-Pa-Papagena!" – Duet of Papageno and Papagena from the The Magic Flute
Mendelssohn: Octet in E-flat major, Op. 20 – 1. Allegro moderato ma con fuoco
Students of the Liszt Ferenc Academy of Music: Eszter Kökény, Csenge Dósa (violin), Fülöp Görbicz (viola), Flóra Matuska, Máté Tomasz (cello), Lőrinc Kósa (baritone), Imola Pogány (piano)
Students of the Ewha Womans University: Kim Shiyeon, Lee Joo Ahn (violin), Chung Jiin (viola), Bai Il-Hwan, Hwang Nha Yoon, Kim Hwijin, Kim Seulgi, Kong Yusun, Oh Juhyoun, Park, Bo Kyung (cello), Han Geulim (soprano), Woo Daeun (piano), Kwak Eun Ah (kayagum), Park Hyeohn (daegeum), Kim Kyunghun – Panszori (traditional vocals)
The mission of this joint concert by the Liszt Academy and EWHA Women's University is to create harmony between internationally-recognized and popular melodies (Dohnányi, Mendelssohn, Mozart), cello ensemble arrangements with a Hungarian rhythm (Brahms, Kodály) and the traditional South Korean tonal-scape, as well as singing and opera literature. South Korean traditional instruments are played as one of the highpoints of the recital, associating the body resonances of vocals and embedded in classical works, thus introducing an element of the exotic to familiar melodies. The concert's diverse programme shows a cross section of the activities of the two schools, as well as giving insight into the wide range of international relationships pursued by the Liszt Academy.
Presented by
Liszt Academy Concert Centre
Tickets:
Admission to the concert is free. Free tickets can be obtained from the ticket office at the Liszt Academy one month before the concert.