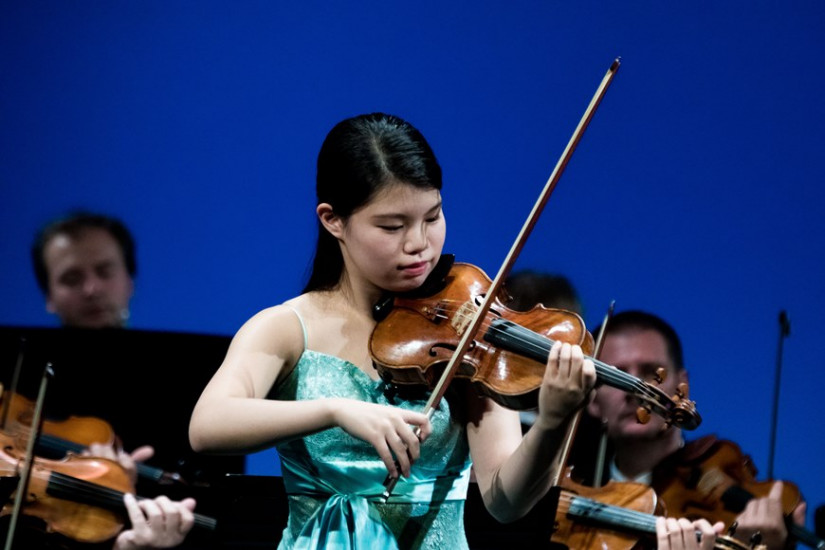 19 March 2019, 19.00-21.00
Old Academy of Music, Chamber Hall
Kitagawa Chisa Chamber Recital

Presented by Liszt Academy
Prokofiev: Sonata for Two Violins in C major, Op. 56
Bartók: Rhapsody No. 1, BB 94a
Beethoven: Sonata for Violin and Piano No. 1 in D major, Op. 12/1
Kitagawa Chisa (violin), Vilmos Szabadi (violin), Brigitta Taraszova (piano)
A Budapest audience has already had the opportunity of hearing Kitagawa Chisa at the 2017 Bartók World Competition, where the young Japanese artist also won the special prize of the Liszt Academy. At this sonata recital, the 22-year-old, hugely gifted violinist playing in the company of Brigitta Taraszova and Vilmos Szabadi first performs Sergei Prokofiev's C major sonata unusually scored for double-violin: the movement order of the composition dating from 1930 may have a Baroque, experimental-like feel, yet it is still very much of the 20th century. Motifs and movement titles of the Bartók work, Rhapsody No. 1, from just a few years earlier (1926), conjure up old Hungarian music: Slow and Fast (Energetic). The 1798 violin sonata (keyed in D major) is not yet in the manner of 'titan' Beethoven: in style, it actual evokes the two other giants of the First Viennese School, Haydn and Mozart. The master dedicated it to Antonio Salieri. This is the programme expressive of the performance style know-how, collaborative will, perceptiveness and virtuosity of Kitagawa Chisa.
Presented by
Liszt Academy Concert Centre
Tickets:
Admission is free, subjected to the capacity of the room.