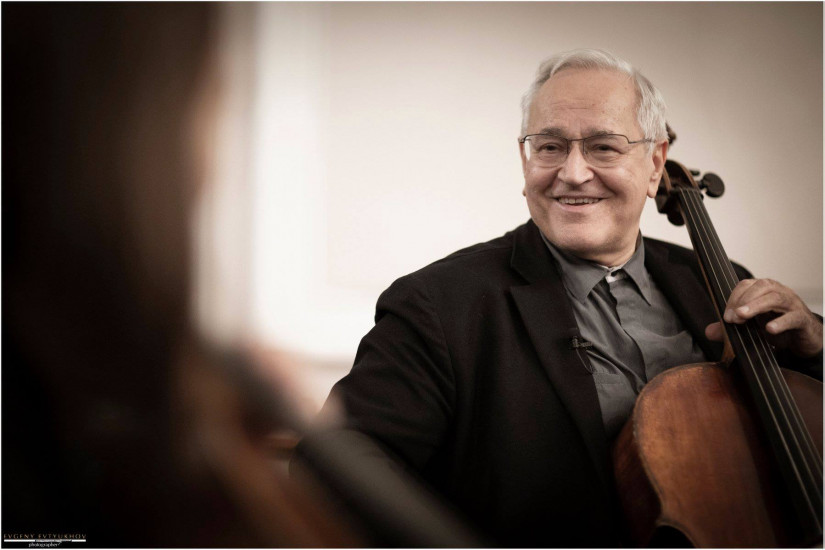 28 July 2019, 19.30-22.00
Grand Hall
Festival Academy 2019
Mintz, Geringas, Cohen...

Presented by Liszt Academy
Schubert: Fugue in E minor, D. 952
Dejan Lazić, José Gallardo (piano)
Mendelssohn: Octet in E-flat major, Op. 20
Shlomo Mintz (violin), Razvan Popovici (viola), Mon Puo Lee (cello), Students of the Festival Academy
Boulez: Messagesquisse
Jonathan Cohen, Maximilian Hornung, Kokas Dóra, Mon Puo Lee, Students of the Festival Academy, conductor: David Geringas
Baroque Aria
Ágnes Kovács (soprano), Mónika Tóth (violin), Jonathan Cohen (harpsichord), Igor Davidovics (lute)
Leclair: Violin Concerto in G minor, Op. 10/6
Barnabás Kelemen, Mónika Tóth, Katalin Kokas (violin), Dimitry Smirnov (viola), Dóra Kokas (cello), Attila Szilágyi (bőgő), Jonathan Cohen (harpsichord), Igor Davidovics (lute)
The musical picture frame of the Festival Academy 2019 is pieced together from works by French Baroque composers. The works written by Jean-Marie Leclair Rebel – and quite importantly, his contemporary Rameau – evoke the splendour of the court of Louis the Great (Roi Soleil). The hosts and permanent contributors of the Festival will take farewell from the audience by the casually elegant Violin Concerto in G minor, but before ultimately saying good bye, they will recall nearly all music historical periods. While Schubert wrote his Fugue in E minor for four hands briefly before his death, for his outing to the organ in Heiligenkreuz, Mendelssohn's Octetfor two string quartets is a very early composition: in fact, he was just sixteen years old, when he composed it. The jaunty closing recital will feature Pierre Boulez's Messagesquisse, which was originally written for seven cellos and was to be performed at the La Rochelle violoncello competition in 1977. The piece is basically the creative re-arrangement of the code made up of the letters of the person giving the commission for the composition, Paul Sacher.
Presented by
Festival Academy Budapest
Tickets:
HUF 4 000 (Students/Pensioners: HUF 2000). 25% discount for two or three tickets, 50% discount for four or more tickets.