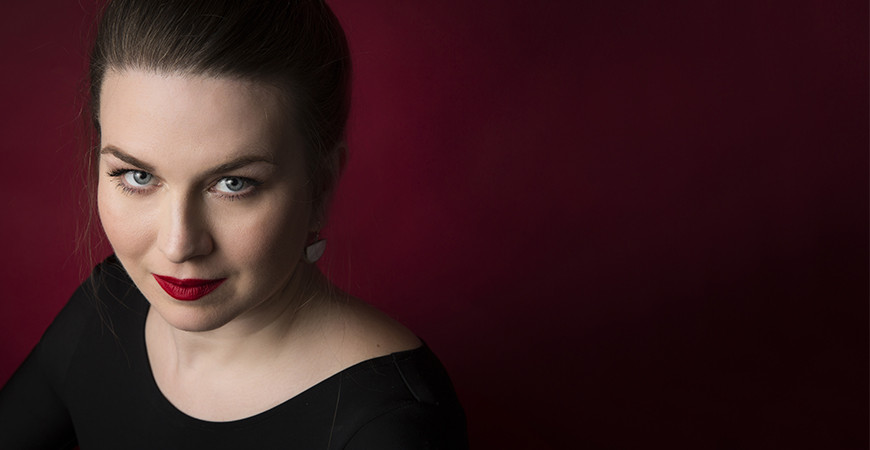 19 October 2019, 19.00-21.00
Solti Hall
Jazz it!
Júlia Karosi

Presented by Liszt Academy
Porter: I love Paris
Porter: You'd Be So Nice to Come Home To
Porter: I've Got You Under My Skin
Porter: Just One of Those Things
Gershwin: Prelude No. 2 in C-sharp minor
Gershwin: Do it Again
Gershwin: He Loves and She Loves
Porter: It's All Right with Me

intermission

Porter: Love for Sale
Porter: What Is This Thing Called Love?
Gershwin: Porgy and Bess – Summertime
Gershwin: I Got Rhythm
Porter: Ev'ry Time We Say Goodbye
Porter: Night and Day
Gershwin: Bidin'n My Time
Karosi Júlia Quartet: Júlia Karosi (vocals), Áron Tálas (piano), Ádám Bögöthy (double bass), Bendegúz Varga (drums)
RTQ String Quartet: Balázs Bujtor, Erika Kovács (violin), Boglárka Hundt (viola), Béla Gál (cello)
Instrumentation: Márton Fenyvesi (George Gershwin Songs), Illés Szabó (Cole Porter Songs)
The genre of jazz has much to thank songwriters living in New York in the first two decades of the 20th century: Jerome Kern, Cole Porter, Irving Berlin and of course George Gershwin. Their catchy hits, composed to classical quality standards, became not only key parts of the Great American Songbook but the jazz canon, too. The fantastic jazz singer Júlia Karosi and orchestra released Love is Here to Stay in 2018, with which they paid tribute to George Gershwin. The hit album was preceded by a similarly successful series, and as a continuation of this the new production of the formation debuts on the stage of the Liszt Academy in October 2019, turning the spotlight firmly on the music of Gershwin and Cole Porter. At this recital evoking the atmosphere of Tin Pan Alley and Broadway of the 1920s, the Karosi Júlia Quartet are complemented with the RTQ string quartet led by Balázs Bujtor. Two young jazz musicians, Márton Fenyvesi and Illés Szabó, and naturally the Karosi Júlia Quartet, ensure the elegant, classical tone of the evening.
Presented by
Liszt Academy Concert Centre
Tickets:
HUF 2 500