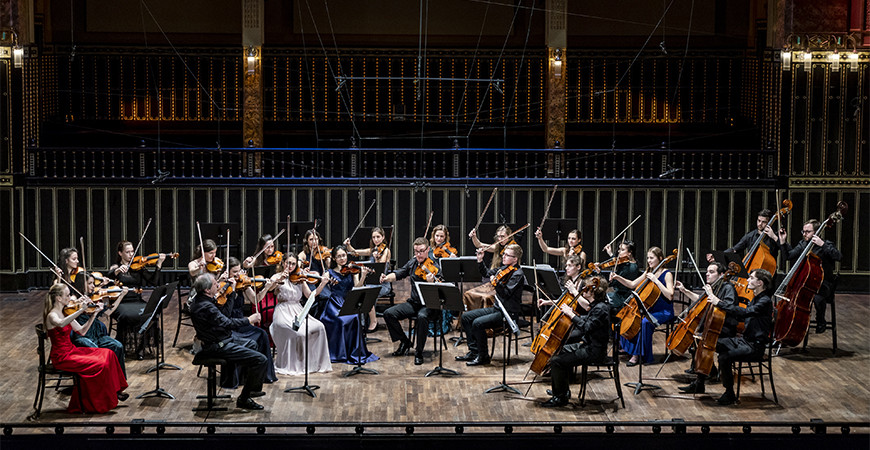 18 September 2020, 19.30-22.00
Grand Hall
Masters of the Orchestra
János Rolla & Liszt Academy Chamber Orchestra/2

Presented by Liszt Academy
Streamed only
Rescheduled date
Haydn: The Seven Last Words of Our Saviour on the Cross, Hob. XX:2
Narrator: Károly Mécs
Liszt Academy Chamber Orchestra
Concertmaster: János Rolla

The origins of Haydn's oratorio are somewhat complicated. In 1786, the composer received a commission from the city of Cádiz in southwest Spain: he was asked to compose an orchestral work for the service on Good Friday. One year later, he also made a string quartet and piano transcription, and nearly ten years later an oratorio version of the series. There are seven musical meditations between the introductory movement and the 'earthquake' ending – these correspond to the Seven Words of Jesus on the Cross. The libretto in German was compiled by Dutch-Austrian diplomat and official Gottfried van Swieten, one of the famous patrons of the composers of the First School of Vienna.
The concert features students of the Liszt Academy who are performing the string quartet version. During 2020, the Liszt Academy Chamber Orchestra take to the stage in three concerts under the leadership of János Rolla, Kossuth Prize violinist, in the framework of the Masters of the Orchestra series. 
Tickets and season tickets purchased for March 29th 2020 are valid for this concert.
Presented by
Liszt Academy Concert Centre
Tickets:
HUF 1 500, 2 300, 3 100, 3 900