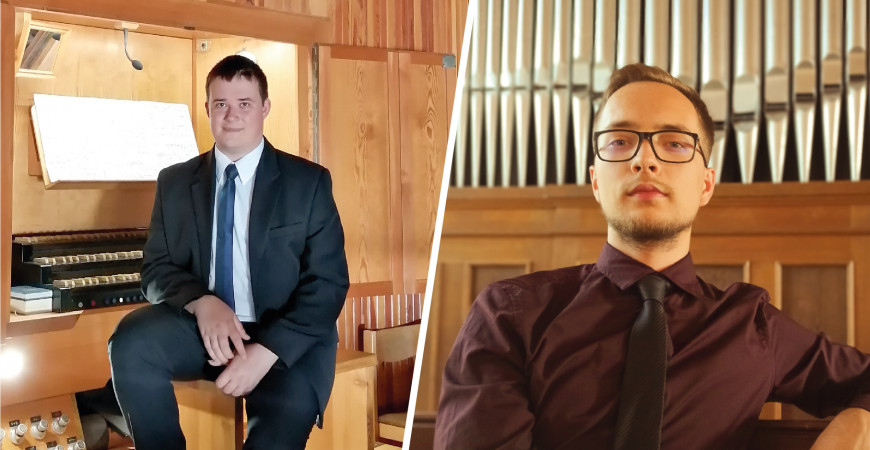 2 October 2020, 19.30-21.30
Grand Hall
Organ in the Centre
Balázs Giczi & Alan Zsilka

Presented by Liszt Academy
Program change
Performer change
Franck: Fantasia in C major, Op. 16
Koloss: Partita No. 4 – Variations on a Theme by Halmos
Widor: Organ Symphony No. 7 in A minor, Op. 42/3 - 1. Moderato, 3. Andante, 6. Finale. Allegro vivace
Balázs Giczi (organ)

intermission

J.S.Bach: Preludium and Fugue in E minor, BWV 548
Franck: Three Pieces – 2. Cantabile
Reubke: Organ Sonata in C minor ('Psalm 94')
Alan Zsilka (organ)
Balázs Giczi earned his first degree under István Ruppert in Győr and went on to receive his final degree this year under László Fassang at the Liszt Academy. He has attended a number of international master courses and had the opportunity to play on several famous organs, including those in Notre Dame and Saint-Sulpice in Paris as well as in Saint-Francis de Sales in Lyon. Closer to home, he has given recitals in Uzhhorod (in Ukraine), as well as here in Hungary in Budapest, Győr, Pannonhalma and Tihany. Besides being an organist at the Benedictine church in Győr, he is an organ accompanist to the Collegium Musicum Jaurinense Benedictine Boys' Choir and the Pannonischer Singkreis St. Cecilia Choir.
Alan Zsilka studied under László Fassang and then Balázs Szabó at the Liszt Academy and obtained his master's degree this year as well. Since 2014, he has often attended and won awards at international competitions, having received a gold medal at the International Rally of Organists in Szeged and a second prize plus a special Bach award at the Timorgelfest International Organ Competition. In 2017 he teamed up with Tamás Kubík to launch a series of events entitled Organ Concerts in Upper Hungary, which are still held regularly in an effort to help the people of that region of Slovakia preserve their culture and identity. He has given recitals in Northern Ireland, France, Transylvania (Romania), Transcarpathia (Ukraine) and Hungary. He is currently an organist at St. Imre Parish church in Dunakeszi-Alag (Hungary).
We regret to inform our audience that the performer and repertoire of the 2 October 2020 concert has been changed. Organist David Titterington's recital will be postponed to next year due to uncertain travel conditions. Instead of him, two young talents, Balázs Giczi and Alan Zsilka will perform on the concert. Tickets and season tickets purchased are valid for this event. 
Thank you for your kind understanding!
Presented by
Liszt Academy Concert Centre
Tickets:
HUF 1 800, 2 300, 2 900