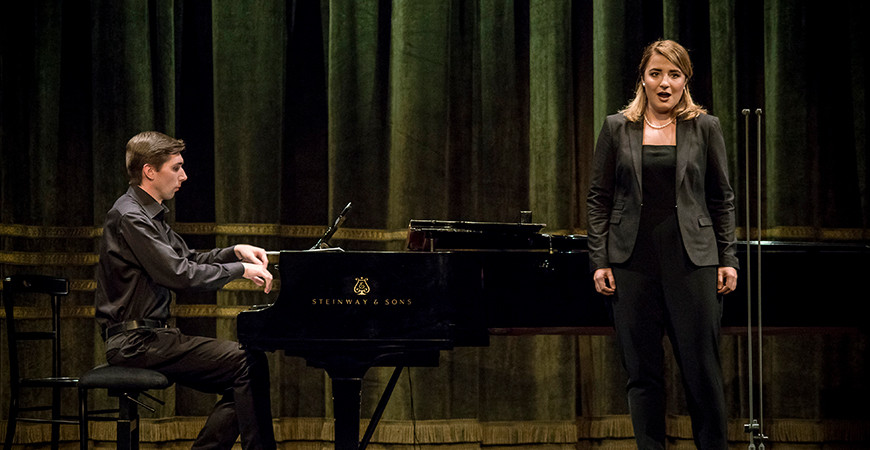 19 October 2020, 19.00-21.00
Solti Hall
Songs, Song transcriptions/1

Presented by Liszt Academy
Concert by Keyboard Students of the Doctoral School
Schubert–Liszt: Schwanengesang – 12. Der Doppelgänger, 3. Aufenthalt
Schubert–Liszt: Müllerlieder – 2. Der Müller und der Bach
Balázs Demény (piano)
Schumann – Szőcs Kristóf: Four Songs from the song cycle Dichterliebe
Kristóf Szőcs (piano)
Brahms: Vier ernste Gesänge, Op. 121 
Ákos Borka (bass), Ádám Menyhei (piano)
R. Strauss Vier Lieder, Op. 27
Anikó Kronauer-Vida (soprano), Kinga Krizsán (piano)
From Franz Schubert through Sergei Rachmaninov all the way to Richard Strauss. This is the programme compilation of the two-part mini series keyboard students of the Doctoral School of the Liszt Academy offer to the public. The concerts that have come about under the expert guidance of programme director Péter Nagy feature a handpicked selection of the vast song and song arrangement repertoire. The first evening comprises lieder in the German language and arrangements of German songs plus piano pieces by Liszt (who was brilliant in this area as well) and modern, contemporary keyboard paraphrases.
Presented by
Liszt Academy Concert Centre
Tickets:
Free tickets can be claimed at the Ticket Office of the Liszt Academy one month before the concert.