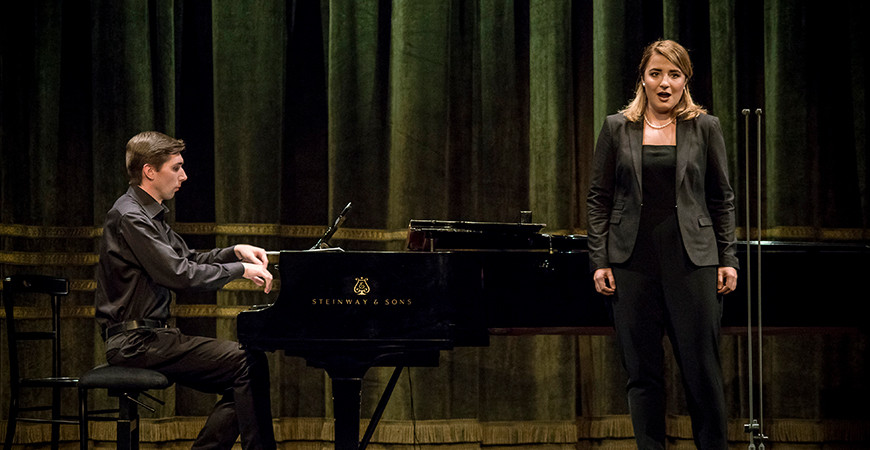 21 October 2020, 19.00-21.00
Solti Hall
Songs, song transcriptions/2

Presented by Liszt Academy
Concert by Keyboard Students of the Doctoral School
Fauré: ​Clair de lune, Op. 46/2 – 2. Clair de lune
Debussy: Clair de lune (Votre âme est un paysage choisi)
Debussy: Fêtes galantes, Book 1 – 3. Clair de lune
Debussy: Suite Bergamasque – 3. Clair de lune
Anikó Kronauer-Vida (soprano), Panni Hotzi (piano)
Kodály: Énekszó, Op. 1 – 1. Három út előttem, 2. Jöjj te hozzám, szép madárka, 3. Kinyílt a kalitka, 5. Isten adta kis barnája, 9. Vékony a pókháló
Csilla Kovács (soprano), Dorottya Simon (piano)
Rachmaninov: Six Romances, Op. 38 – 3. Daisies
Rachmaninov: Daisies(arranged by the composer for piano)
Rachmaninov: Twelve Songs, Op. 21 – 7. How Fair this Spot
Rachmaninov–Gryaznov: How Fair this Spot (transcription for piano)
Rachmaninov: Fourteen Romances, Op. 34 – 14. Vocalise
Rachmaninov–Kocsis: Vocalise (transcription for piano)
Zsófia Staszny (soprano), Éva Szalai (piano)
The Doctoral School of the Liszt Academy is a community-building training workshop for succeeding new generations of instrumental and vocal performance artists as well as researchers. On this, the second evening of the now traditional autumn mini series under the direction of Péter Nagy and featuring keyboard students of the Doctoral School, it is the moment for recitals of moonlight-themed songs by French composers and the most famous piano piece by Debussy in addition to parts of Kodály's cycle Songs setting folk poems to music. At the end of the concert that shifts eastwards from Western Europe, Rachmaninov's mature songs are interspersed with piano arrangements.
Presented by
Liszt Academy Concert Centre
Tickets:
Free tickets can be claimed at the Ticket Office of the Liszt Academy one month before the concert.