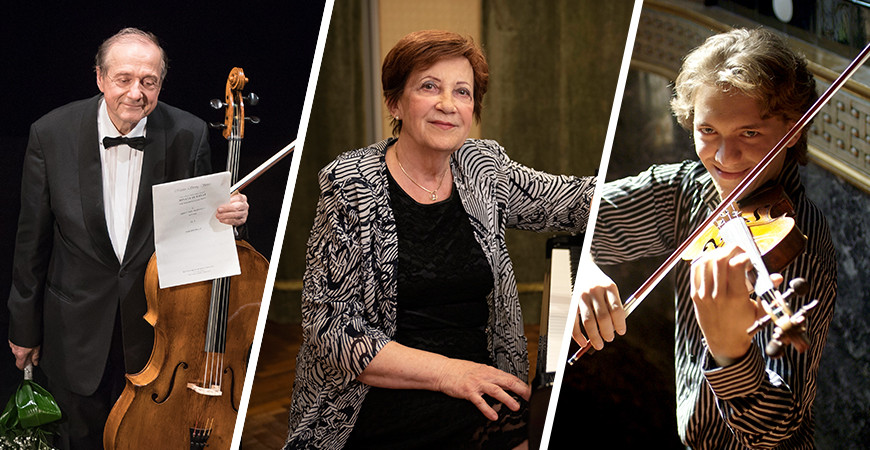 30 October 2020, 19.30-21.30
Solti Hall
Beethoven +
Ilona Prunyi, Ádám Banda & Miklós Perényi

Presented by Liszt Academy
Performer change
Time change
Rescheduled date
Beethoven: Piano Trio No. 4 in B-flat major, Op. 11 ('Gassenhauer')
Glinka: Trio Pathétique in D minor
intermission
Beethoven: Piano Trio No. 7 in B-flat major, Op. 97 ('Archduke')
Ilona Prunyi (piano), Ádám Banda (violin), Miklós Perényi (cello), Balázs Rumy (clarinet), Sára Rebeka Tóth (bassoon)
"How irresistibly does this wonderful composition transport the listener through ever growing climaxes into the spiritual realm of the infinite!" enthused E. T. A. Hoffmann over the art of Beethoven in a study published in 1810. Although the quoted text basically praises the modernity of Symphony No. 5, one can clearly read in it why Hoffmann considered the Viennese composer to be the uncompromising flagbearer of the Romantic aesthete. He was of the opinion that the works of Beethoven encapsulated music of the highest order, they speak directly to the human soul, and as such would never lose their relevance for posterity. Nothing could prove more dramatically the accuracy of his conviction than the fact that the entire music world commemorates the 250th anniversary of the birth of Beethoven in 2020. Naturally, the Liszt Academy is also taking part in the celebrations with a concert series featuring, among others, greats of the Hungarian concert scene prepared to pay tribute to the genius of Beethoven such as Ilona Prunyi, Miklós Perényi and Ádám Banda. Beethoven's piano trios are joined by the unconventionally instrumentalized, youthful Glinka work written during his years in Italy, in which two young musicians, Balázs Rumy and Sára Rebeka Tóth, participate.
Tickets and season tickets purchased for April 7th 2020 are valid for this concert.

Presented by
Liszt Academy Concert Centre
Supporter:
This concert was supported, in line with the Government decree 1290/ 2020. (VI.5) related to cultural institutions, in order to ease the economic difficulties caused by the Covid19 pandemic. 
Tickets:
HUF 2 900, 3 900
Concert series: