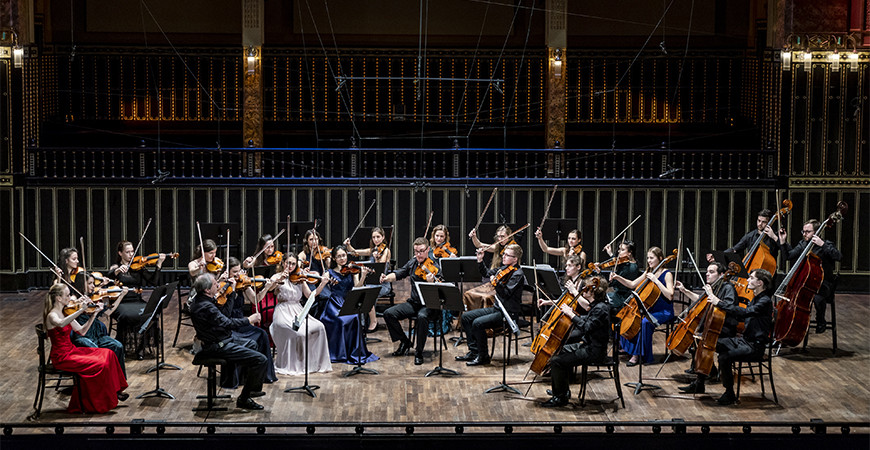 4 November 2020, 19.30-22.00
Grand Hall
Masters of the Orchestra
János Rolla & Liszt Academy Chamber Orchestra/3

Presented by Liszt Academy
Streamed only
Performer change
J. S. Bach: Orchestral Suite No. 2 in B minor, BWV 1067
J. S. Bach: Brandenburg Concerto No. 5 in D major, BWV 1050
Schubert: String Quartet No. 14 in D minor, D. 810 ('Der Tod und das Mädchen') – transcription for string orchestra
Borbála Dobozy (harpsichord), Veronika Oross (flute)
Chamber orchestra of the Liszt Academy
Concertmaster: János Rolla
Composed of students at the Liszt Academy, the chamber orchestra takes part in rehearsal sessions as part of the regular Academy curriculum. In 2020, the ensemble will perform the best musical gems in a package of three evening concerts under the baton of Kossuth Prize-winning violinist János Rolla. The closing concert of the series will feature two veritable hits by Bach, first the Orchestral Suite in B minor, including the legendary flute solo, followed by Brandenburg Concerto No. 5. The concert will end with Death and the Maiden by Schubert, one of the best-known chamber pieces ever, arranged for string orchestra. The keyboard and flute solos in the Bach compositions will be played by early music specialist Borbála Dobozy, an early music specialist, and Veronika Oross. 

Presented by
Liszt Academy Concert Centre
Supporter:
This concert was supported, in line with the Government decree 1290/ 2020. (VI.5) related to cultural institutions, in order to ease the economic difficulties caused by the Covid19 pandemic. 
Tickets:
HUF 1 500, 2 300, 3 100, 3 900