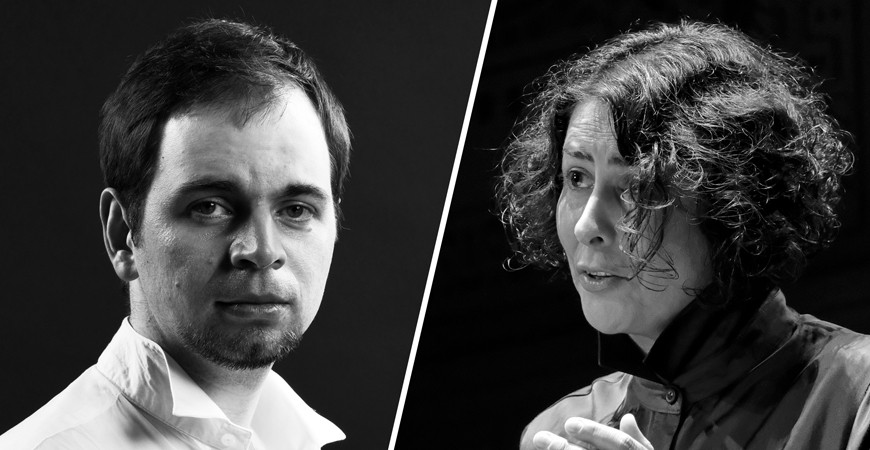 17 November 2020, 19.00-20.00
Solti Hall
Sorrow Songs

Presented by Liszt Academy
Judit Rajk Habilitation Concert
Cancelled
EPITAPHS
Jeney: László Rajk's Watermark (2019)
Jeney: "Én imádottam..." – excerpt from the Funeral Rite (to the poem by Sándor Weöres, 1995/2007/2018)
Liszt: Le Crucifix, S. 342-I / LW. K9 (Victor Hugo, 1879/83)
Jeney: If nothing to do – In memory of Péter Esterházy (to the poem by Dezső Tandori, 2016)
Jeney: "Was hast du verborchen?" Epitaphium Ildikó Vékony (2017)
Liszt: Le Crucifix, S. 342-III / LW. K9 (Victor Hugo, 1879/83)
György Kurtág: Three Old Inscriptions, Op. 25 – 3. On a Cross in the Cemetery at Mecseknádasd (1992)
Jeney: Márta Kurtág's Watermark (2019)


SORROW SONGS
Jeney: Elijah, Isaiah (Songs to the poems by Dezső Tandori, Nr. 2., 1998/2019)
Schubert: Der Tod und das Mädchen, D. 531 (to the poem by Matthias Claudius, 1817)
Máté Balogh: Wenn dein Mütterlein... (to the poem by Friedrich Rückert, 2014)
Schubert: Wandrers Nachtlied I., D. 224 (to the poem by Johann Wolfgang von Goethe, 1815)
Jeney: Round Pond, az én Balatonom (Dalok Tandori Dezső verseire, Nr. 4., 1998/2019)
Hildegard von Bingen: O ignée Spiritus (a Symphonia armonie celestium revelationum sorozatból, 1150 körül)


HAMLET LET IT
György Kurtág: Vízjel, Apa nyara – anya nyara (two excerpts from the song series AB-Játékok to the poems by Dezső Tandori, 2020) – world premiere
Brahms: 5 Ophelia-Lieder, WoO 22
Shostakovich: Dialogue between Hamlet and His Conscience, Op. 143/3
Jeney: Ami eldől, nem áll / A modern Hamlet-turn
György Kurtág: Three Songs to the poems by Dezső Tandori (2019) – 1. a hamleti megengedés, 2. riadókészültség, 3. a hamleti megengedés [alio modo]


Judit Rajk (alto), László Borbély (piano)

The programme of this habilitation concert composed with particular sensitivity by Judit Rajk, singer and teacher at the Liszt Academy, seeks, in three acts, to find answers and reassurance to spiritual and philosophical questions about death, transience and remembrance using the works of Schubert, Brahms, Liszt and Shostakovich as well as György Kurtág, Zoltán Jeney and Máté Balogh. The concert is structured around works written by these three Hungarian composers for Judit Rajk and her pianist chamber partner, László Borbély, including the final works by Zoltán Jeney, the recently deceased professor of the Liszt Academy, and György Kurtág's monodic works written for Judit Rajk in 2019-2020, which are the first pieces in the forthcoming AB Games for voice. There is no ignoring the fact that virtually all of the songs being performed by the vocalist known also as a teacher at the Liszt Academy's Church Music Department are built on ancient, Gregorian vocal traditions, with special monophonic structure, chanting and recitative monologues in an inseparable unity with the lyrics.
Tickets and season tickets purchased for April 30th 2020 are valid for this concert.
Presented by
Liszt Academy Doctoral School
Tickets:
Admission to the concert is free. Tickets can be claimed at the Ticket Office of the Liszt Academy one month before the concert.