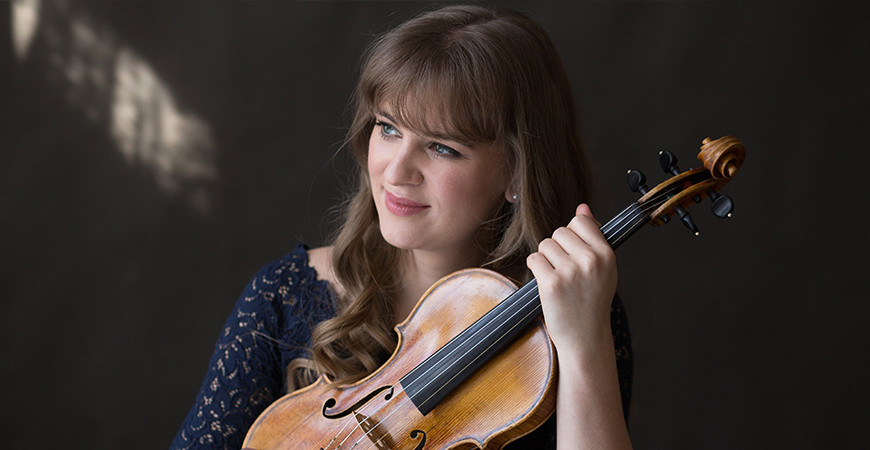 15 December 2020, 19.00-21.00
Grand Hall
Talent Obliges
Eszter Osztrosits & Chamber Music Partners

Presented by Liszt Academy
Dohnányi Recital
Streamed only – Online Concert Hall
Dohnányi: Serenade in C major, Op. 10
Dohnányi: Sonata for Violin and Piano in C-sharp minor, Op. 21

INTERMISSION

Dohnányi: Sextet in C major, Op. 37
Eszter Osztrosits (violin), András Kurgyis, Oszkár Varga (viola), Flóra Matuska (cello), Balázs Rumy (clarinet), Bálint Tóth (horn), Imre Dani (piano)
Host: Endre Tóth
Violinist Eszter Osztrosits, who is a doctoral student at the Liszt Academy, and her chamber partners provide us with a sample of the music of Ernő Dohnányi within the series Talent Obliges. Composer, conductor and pianist Dohnányi, who settled in the United States towards the end of his life, was a key figure in Hungarian music life in the interwar period. The three chamber works in this concert were all scored for different instrument lineups. The Serenade in C major is for violin, viola and cello, and the Sextet in C major is for piano, clarinet, horn, violin, viola and cello.

Presented by
Liszt Academy Concert Centre
Supporter:
This concert was supported, in line with the Government decree 1290/ 2020. (VI.5) related to cultural institutions, in order to ease the economic difficulties caused by the Covid19 pandemic. 
Live stream tickets:
HUF 500; Sponsor ticket HUF 4 000