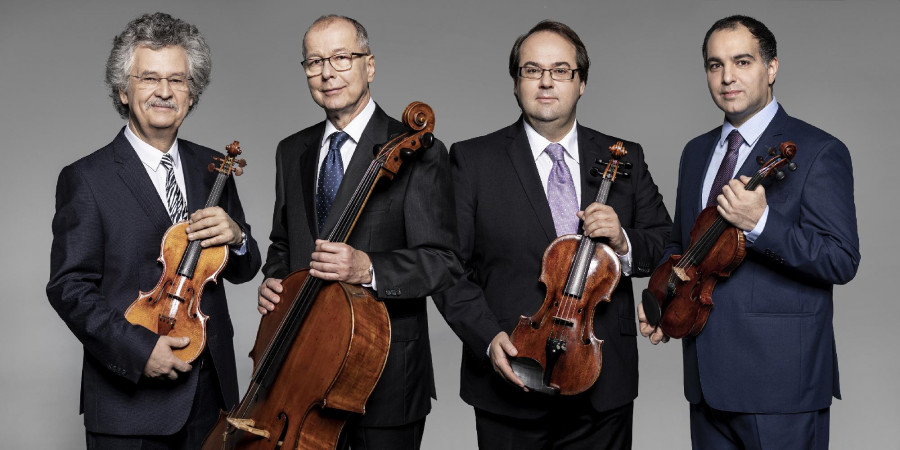 18 December 2020, 19.00-21.00
Grand Hall
Chamber Music, So Close
Máté Szűcs & Kodály String Quartet

Presented by Liszt Academy
Cancelled
Mozart: String Quartet No. 18 in A major, K. 464
Beethoven: String Quartet No. 5 in A major, Op. 18/5

intermission

Brahms: String Quintet No. 2 in G major, Op. 111
Kodály String Quartet: Attila Falvay, Ferenc Bangó (violin), Zoltán Tuska (viola), György Éder (cello)
Máté Szűcs (viola)
In the 20th century, the high quality chamber music culture of Hungary has given Europe and the world such world-renowned chamber ensembles as Budapest String Quartet, Waldbauer–Kerpely String Quartet, Hungarian String Quartet, Végh Quartet, Tátrai String Quartet, Bartók String Quartet and Takács Quartet, to name just a few of the many possible examples. The Kodály String Quartet founded in 1966 from students of the Liszt Academy fit neatly into this musical heritage. They took on the name of the famous Hungarian composer in 1972, and have represented the culture of Hungarian string quartet playing around the world for over 50 years. The ensemble have recorded all the quartets of Haydn, Beethoven and Schubert, and these have regularly sparked rave reviews in the international media. During this recital we hear two string quartets by Mozart and Beethoven, plus one of the string quintets by Johannes Brahms, with Máté Szűcs, the excellent violist, joining Kodály String Quartet for the latter. Attila Falvay plays on the 1731 'Hamma' Antonio Stradivari violin, which is owned by the Hungarian State. 

Presented by
Liszt Academy Concert Centre
Supporter:
This concert was supported, in line with the Government decree 1290/ 2020. (VI.5) related to cultural institutions, in order to ease the economic difficulties caused by the Covid19 pandemic. 
Live stream tickets:
HUF 500; Sponsor ticket HUF 4 000