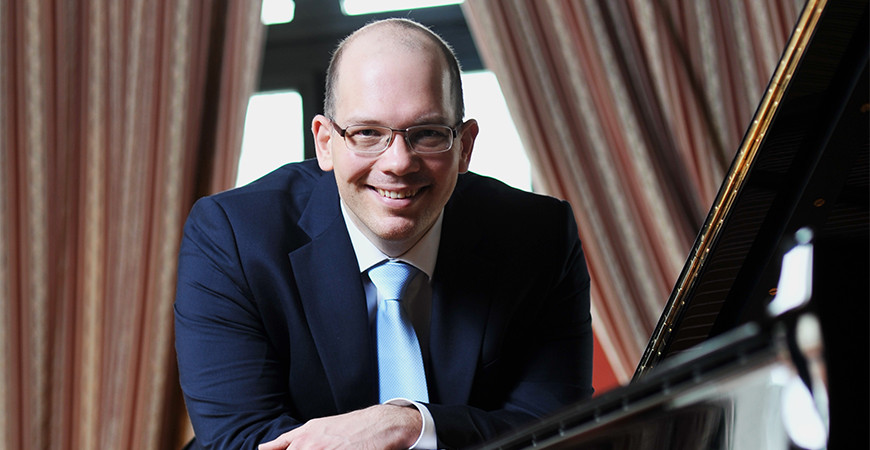 19 December 2020, 19.00-21.00
Grand Hall
Black and White Colours
Dávid Báll

Presented by Liszt Academy
Streamed only – Online Concert Hall
Program change
Debussy: Préludes, Book1 – 1. Dancers of Delphi, 2. Sails, 8. The Girl with the Flaxen Hair, 10. The Submerged Cathedral
Debussy: Préludes, Book2
Dávid Báll (piano)
The two volumes of Debussy's Préludes are one of the most significant series of piano literature. They were composed in the last decade of Debussy's life, in 1910 and 1913, and represent the essence of the composer's work. "Performers like to play audience favourites of the volumes in concert halls, but the works are rarely performed all at once. The preludes are masterpieces in themselves, but the second volume is more special to me: it introduces an even wiser Debussy, living in perfect harmony with himself and the world, who no longer merely knows all the ins and outs of earthly existence, but has also gained insight into the transcendent reality of otherworldly existence," Dávid Báll says of the French master's series.

Presented by
Liszt Academy Concert Centre
Supporter:
This concert was supported, in line with the Government decree 1290/ 2020. (VI.5) related to cultural institutions, in order to ease the economic difficulties caused by the Covid19 pandemic. 
Live stream tickets:
HUF 500; Sponsor ticket HUF 4 000