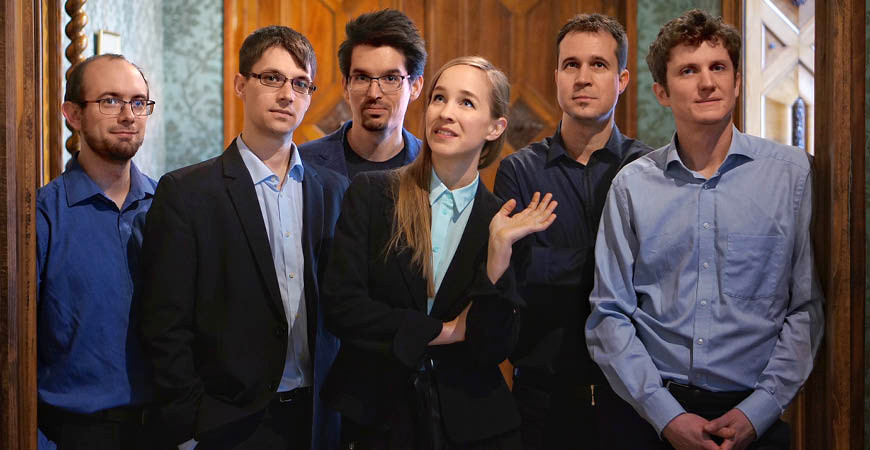 29 April 2021, 19.30-21.00
Grand Hall
Music of the 20th-21st Centuries
Classicus Ensemble

Presented by Liszt Academy
Streamed only
Time change
Debussy: Petite Suite (transcription by Péter Tornyai)
Péter Tornyai: Sprechgesang
Ravel: Ma mère l'oye (transcription by Péter Tornyai)

INTERMISSION

Schoenberg: Pierrot Lunaire, Op. 21
Veronika Harcsa (vocals)
Classicus Ensemble: Máté Bán (flute), Péter Szűcs (clarinet), Éva Osztrosits (violin), Péter Tornyai (violin, viola), Tamás Zétényi (cello), Zoltán Fejérvári (piano), János Nevelő (percussion)
Conductor: Péter Tornyai
Song cycle, melodrama, monodrama, theatre, an intense psychological journey offering endless possibilities for extreme self-expression. Happily, these days we increasingly come across Schönberg's epochal and evergreen masterpiece, Pierrot lunaire comprising 21 poems. Veronika Harcsa, an artist keen to cross genre boundaries and stretch her own limitations, opens a new chapter in the performance history of this work in Hungary: never before has a jazz singer undertaken to perform this enormously complex work. Right up until the day of the concert, it remains a secret how she will interpret the concept of Sprechgesang, but at the same time we know of Péter Tornyai, who also writes ingenious arrangements, how he relates to the Schönberg-related performance method in his piece finalized in 2015. The melodic lines of the instrumental parts and the approximate relations of the notes to each other are defined, while the precise pitches are not.

Dear Audience,
The concert of Classicus Ensemble announced on 21 April 2021 will be held on 29 April 2021. 
Thank you for your understanding!
Stream free of charge at the 
website
, Facebook page and Youtube channel of the Liszt Academy.
Presented by
Liszt Academy Concert Centre
Supporter:
This concert was supported, in line with the Government decree 1290/ 2020. (VI.5) related to cultural institutions, in order to ease the economic difficulties caused by the Covid19 pandemic.