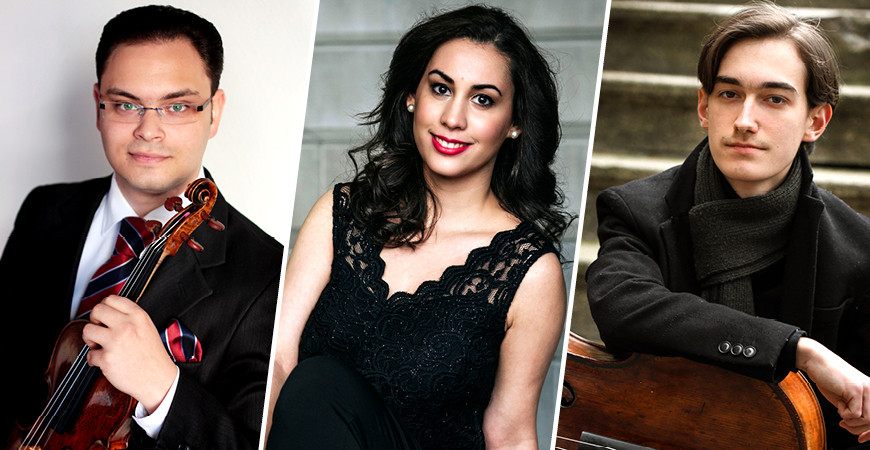 4 May 2021, 19.30-22.00
Grand Hall
Chamber Music – Y generation Spring 2021
Mira Farkas, László Nyári & Gergely Devich

Presented by Liszt Academy
Streamed only
Saint-Saëns: Fantaisie for Violin and Harp, Op. 124
Bruch: Kol nidrei, Op. 47
Händel–Halvorsen: Passacaglia

INTERMISSION

Renié: Trio for Violin, Cello and Harp
László Nyári (violin), Gergely Devich (cello), Mira Farkas (harp)
Host: Endre Tóth
The final decade or so of the last millennium witnessed the birth of promising Hungarian musicians, indeed, artists who can confidently be called outstanding. This has been evident to concert-goers for a long time now. The young artists featuring in this concert are from this generation; all three can boast major competition victories and important debuts, as well as Junior Prima Prizes. László Nyári, Mira Farkas and Gergely Devich have put together something really special for their joint appearance: in the wake of Saint-Saëns' single-movement romantic Fantasia there is Max Bruch's cello work, an arrangement of a synagogue melody, with the first half of the evening closing with the Passacaglia movement of Händel's Suite in G minor as transcribed by Norwegian Johan Halvorsen in 1893. The second half of the concert is fully dedicated to the Trio by French harpist and composer Henriette Renié from the first year of the 20th century.
Presented by
Liszt Academy Concert Centre
Supporter:
This concert was supported, in line with the Government decree 1290/ 2020. (VI.5) related to cultural institutions, in order to ease the economic difficulties caused by the Covid19 pandemic.