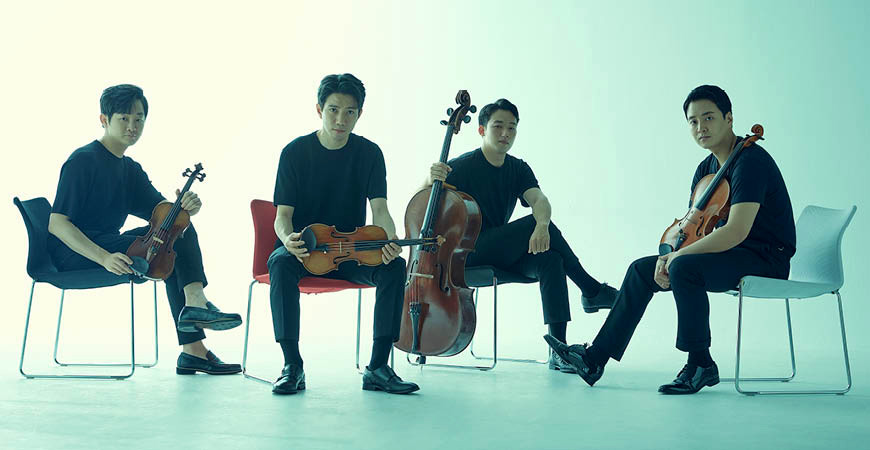 26 September 2021, 19.00-21.00
Solti Hall
Four by four
Novus String Quartet

Presented by Liszt Academy
Beethoven: String Quartet No. 6 in B-flat major, Op. 18/6
Janácek: String Quartet No. 1 (ʻKreutzer Sonata')

INTERMISSION

Brahms: String Quartet No. 2 in A minor, Op. 51/2
Novus String Quartet: Jaeyoung Kim, Young-Uk Kim (violin), Kyuhyun Kim (viola), Wonhae Lee (cello)
The quartet is the pinnacle of chamber music playing. It is a field of classical music that requires adaptation and a measure of independence from the performers. Not everyone is suited to the string quartet. In fact, they say you have to be born for it. Members of one of South Korea's leading chamber music formations are musicians born for the quartet format; they generated a real storm when they took a podium place at the prestigious ARD Music Competition in 2012. They have made their way to the Grand Hall of the Liszt Academy with a beautiful and invigorating programme: the special feature of their compilation is that it spans a period of about 120 years. The pieces are differentiated not only in their style but in that they originate from different periods in the lives of their creators: the 30-year-old Beethoven appeared in public as a composer of quartets with his opus 18 series, Brahms was already 40 when he penned the string quartet performed here, and the Czech artist Janáček creating in an inimitable style completed his work inspired by the Tolstoy novel in his seventieth year.
Dear Audience,
The concert of Novus String Quartet announced on 19 March 2021 will be held on 26 September 2021.
Thank you for your understanding!
Presented by
Liszt Academy Concert Centre
Tickets:
HUF 2 900