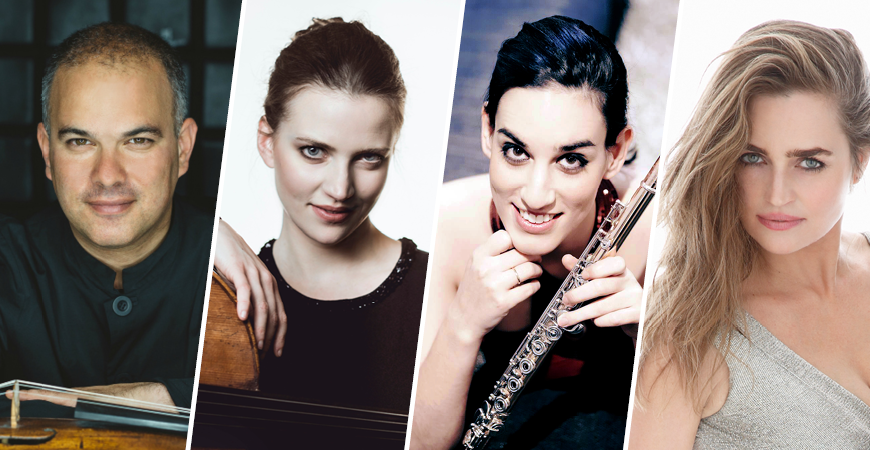 28 September 2021, 19.00-21.00
Solti Hall
Chamber Music, So Close
Noémi Győri, Katalin Kokas, Péter Bársony & Dóra Kokas

Presented by Liszt Academy
Time change
Haydn: String Quartet No. 61 in D minor, Hob. III:76 [Op. 76/2]('Quintenquartett') (transcription by Noémi Győri for flute quartet)
Mozart: Flute Quartet No. 1 in D major, K. 285

INTERMISSION

Haydn: String Quartet No. 64 in D major, Hob. III:79 [Op. 76/5](transcription by Noémi Győri for flute quartet)
Mozart: Flute Quartet No. 3 in C major, K. 285b
Noémi Győri (flute), Katalin Kokas (violin), Péter Bársony (viola), Dóra Kokas (cello)
This is not the first time that these four artists have played together in concert, but this fact does not diminish in the least, indeed, it only serves to further enhance the attractiveness of the event. Anyone who has already heard flautist Noémi Győri playing with her string colleagues Katalin Kokas, Dóra Kokas and Péter Bársony (either separately or together) knows full well that they are in for a chamber music experience unlike any other. The programme comprises works by Haydn and Mozart – this is also what featured on their recording Flute Quartet released this spring. While Haydn originally wrote his pieces for string quartet, and Noémi Győri arranged its first violin part for flute, Mozart really did use the wind instrument as the principal part.

Dear Audience,
The concert announced on 3 October 2021 will be held on 28 September 2021. 
Presented by
Liszt Academy Concert Centre
Supporter:
This concert was supported, in line with the Government decree 1290/ 2020. (VI.5) related to cultural institutions, in order to ease the economic difficulties caused by the Covid19 pandemic. 
Tickets:
HUF 2 900, 3 900
Concert series:
Other events in the concert series: