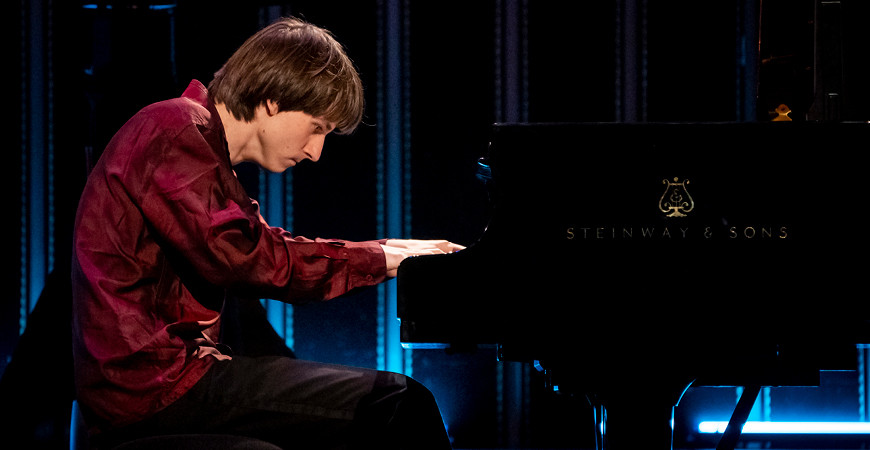 24 October 2021, 19.00-21.00
Solti Hall
Talent Obliges
Ádám Szokolay

Presented by Liszt Academy
Liszt: Années de pèlerinage, Troisième année – 4. The Fountains of the Villa d'Este
Janáček: On an Overgrown Path
Liszt: Nuages gris 
Liszt: Années de pèlerinage, Troisième année – 2. To the Cypresses of the Villa d'Este I: Threnody
Liszt: Hungarian Rhapsody No. 19
Bartók: Dance Suite, BB 86b
Debussy: Masques
Debussy: D'un cahier d'esquisses
Debussy: L'isle joyeuse
Bartók: Out of Doors, BB 89


Ádám Szokolay (piano)
Pictures, symbols, impressions and association games characterize one of the great trends in the music of the turn of the century. With the intention of avoiding the traditional genres, soundscape and forms of expression of the 19th century, composers – searching for sometimes dreamily subjective, sometimes raw and robotic, but always fresh and modern creative solutions – frequently gave their works provocative titles sparking generous image associations. Instead of musical structures playing with the effect of the series of dramatic events, they preferred to use relatively brief forms thought-provoking in their conciseness, and even in their series or multi-movement works they tended towards establishing loose relations or mirror-like structures in place of the grandiose dramatic spans of earlier compositional mentality. Ádám Szokolay's programme for this concert is picked from just such compositions, from the gaunt and sombre tonal Grey Clouds by Liszt through Debussy's hidden cycle (some consider that the three pieces performed here and dating from 1904 were conceived by the composer as sequential elements of some kind of continuous narrative) all the way to the Out of Doors piano series (1926) by Bartók.

Presented by
Liszt Academy Concert Centre
Supporter:
This concert was supported, in line with the Government decree 1290/ 2020. (VI.5) related to cultural institutions, in order to ease the economic difficulties caused by the Covid19 pandemic. 
Tickets:
HUF 1 900
Concert series:
Other events in the concert series: