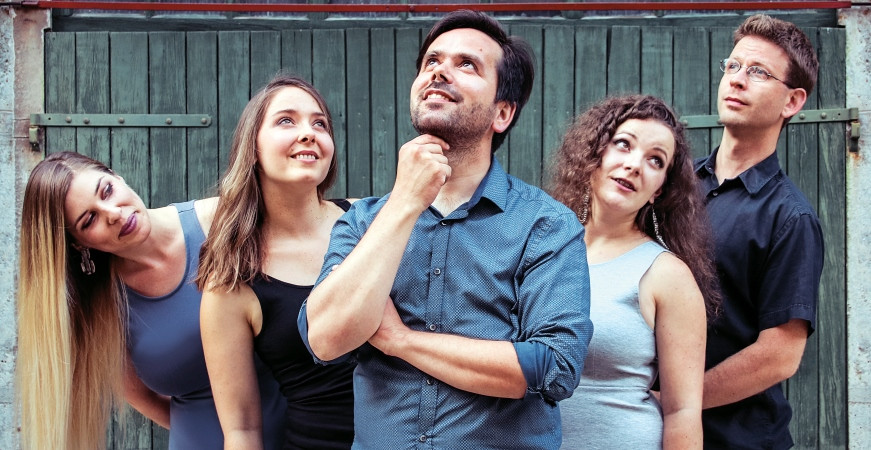 1 December 2021, 19.00-21.00
Solti Hall
Jazz it!
Jazzation

Presented by Liszt Academy
Pannonica
Offline&online
Hubbell: Poor Butterfly
Waller: Honeysuckle Rose
Reinhardt: Minor Swing
Ellington: Come Sunday
Monk: Round Midnight
Monk: Blue Monk
Parker: Yardbird Suite
Monk: Straight No Chaser
Monk: Pannonica
Monk: Round Midnight
Jazzation: Katus Várallyay, Sára Bolyki, Gina Kanizsa, Attila Fábián, Máté Homor (vocals)
Jazzation remembers the Hungarian-born Pannonica Rothschild in its brand-new programme. As the youngest child of Charles Rothschild and Baroness von Wertheimstein of Oradea, Kathleen Annie Pannonica had everything she could wish for. Yet she still longed for something other than wealth could give: a life free of conventions and genuine independence. Not only for herself but every person. In 1952, while staying with a friend she heard Thelonious Monk's legendary recording Round Midnight and she was so taken with the music that she missed her flight and never returned to her family. She settled in New York and dedicated her life to jazz, becoming a patron of musicians. She did this at a time when segregation was the norm in the United States and there were mutterings of disapproval due to the relationships between the white baroness wearing a pure white stole and three stranded pearl necklace and black musicians. Hungary's number one a cappella jazz ensemble, whose members were also called on by Bobby McFerrin for his concert in Budapest, have compiled their concert programme so that the works accompany 'jazz baronness' Nica through her remarkable life journey from the imposing parental home to the exciting world of New York jazz. This is not the first themed concert in Jazzation's 15 years of existence: in 2018, a suite from Gershwin's Porgy and Bess (with symphony orchestra accompaniment), and in January 2020 a choral cantata from Vivaldi's Four Seasons were prepared for them. These proved to be overwhelmingly successful alongside the ensemble's principal profile, jazz and world music adaptations.
Dear Audience,
The concert of Jazzation announced on 15 April 2021 will be held on 1 December 2021.
Thank you for your understanding!
Presented by
Liszt Academy Concert Centre
Tickets:
HUF 2 500