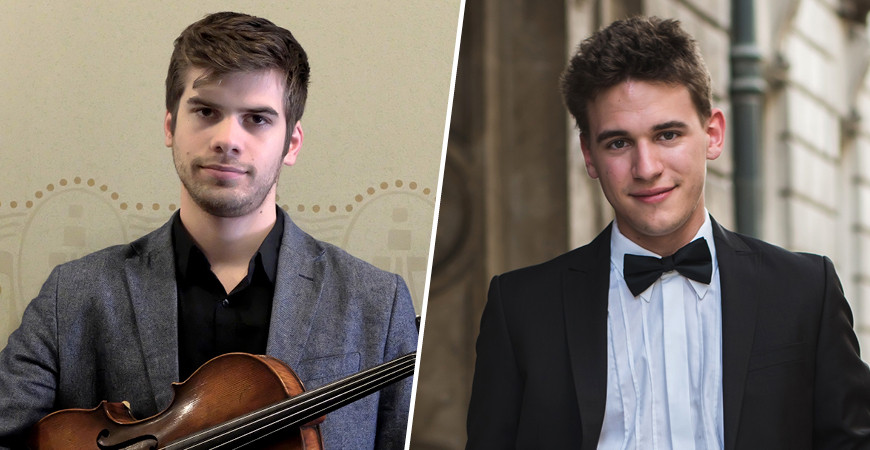 5 December 2021, 19.00-21.00
Solti Hall
Talent Obliges
Péter Bor & Barnabás Baranyai Chamber Recital

Presented by Liszt Academy
Hindemith: Sonata for Viola and Piano, Op. 11/4
Enescu: Concertstück
Péter Bor (viola), Imre Dani (piano)
Shostakovich: Sonata for Cello and Piano in D minor, Op. 40
Barnabás Baranyai (cello), Marcell Szabó (piano)

INTERMISSION

Brahms: Clarinet Trio in A minor, Op. 114 (transcription for viola, cello and piano)
Péter Bor (viola), Barnabás Baranyai (cello), Marcell Szabó (piano)
Two young artists, Péter Bor and Barnabás Baranyai, appear on stage with a host of competition victories and serious experience playing in chamber music concerts of varying instrumental line-ups behind them. In 2019, Péter Bor came first in the National Lukács Pál Viola Competition, thus earning him the chance to appear on Hungarian Radio and at the Bartók Memorial House. Barnabás Baranyai took first place at the 2016 National Dohnányi Ernő Chamber Music Competition, and with his quartet he won the gold medal and Beethoven Prize at the Weiner Leó National Chamber Music Competition. The Junior Prima Prize holder cellist and winner of the Annie Fischer scholarship debuted the cello concerto by Gyula Fekete at the Miskolc Bartók Festival. The concert includes sonatas from two leading artists of 20th century music: Hindemith's viola sonata and Shostakovich's cello sonata were both the fruit of the early creative segment of the respective composers' lives. The Brahms trio is performed with the assistance of pianist Marcell Szabó.

Presented by
Liszt Academy Concert Centre
Supporter:
This concert was supported, in line with the Government decree 1290/ 2020. (VI.5) related to cultural institutions, in order to ease the economic difficulties caused by the Covid19 pandemic. 
Tickets:
HUF 1 900
Concert series:
Other events in the concert series: