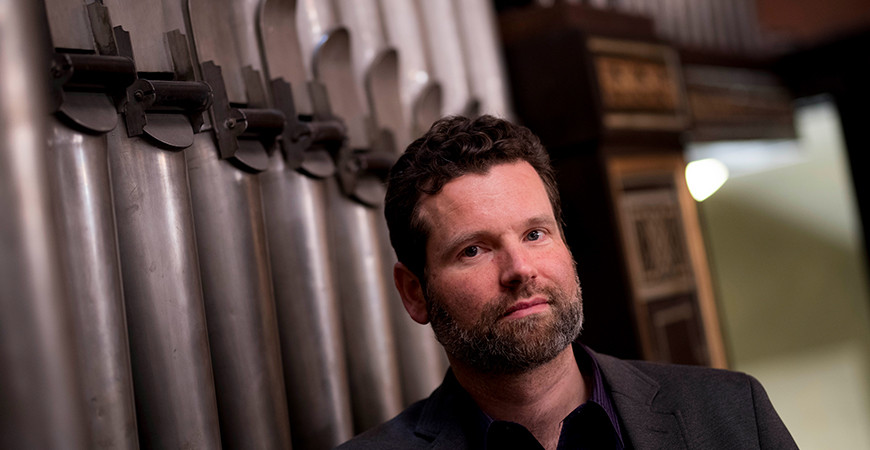 14 December 2021, 19.30-22.00
Grand Hall
Organ in the Centre
László Fassang

Presented by Liszt Academy
J. S. Bach – László Fassang: Chaconne from the Violin Partita in D minor
Zsigmond Szathmáry: B-A-C-H hommage à ...
Liszt: Prelude and Fugue on the Name B-A-C-H

INTERMISSION

Schumann: Six Pieces in Canon Form, Op. 56
Ligeti: Musica ricercata – excerpts
György Kurtág: Games – excerpts
Brahms – László Fassang: Chaconne from the Symphony No. 4 in E minor
László Fassang (organ)
The name of László Fassang is far from unknown to Budapest audiences. The organist's extensive performance activities at home and abroad are focused on the classical organ canon, but his other passion, improvization, also plays an important part. The musical heritage of Johann Sebastian Bach takes centre stage at this Liszt Academy event. The evening begins with the legendary chaconne in D minor, in which Bach gives eternal expression to the emotions aroused after the death of his wife. The musical motif formed from the name of the composer (B-A-C-H) has served to inspire many greats in history: Zsigmond Szathmáry's modern work serves as an excellent contrast to the Liszt prelude and fugue. Schumann's contrapuntal character works are followed by superb miniatures by György Ligeti and György Kurtág. Crowning the recital is the grandiose finale of the fourth symphony by Brahms, which through a variation technique similar to the chaconne makes a fitting end to the concert.

The concert is followed by CODA – which is an informal conversation with the performers.
Presented by
Liszt Academy Concert Centre
Supporter:
This concert was supported, in line with the Government decree 1290/ 2020. (VI.5) related to cultural institutions, in order to ease the economic difficulties caused by the Covid19 pandemic. 
Tickets:
HUF 1 900, 2 900, 3 900