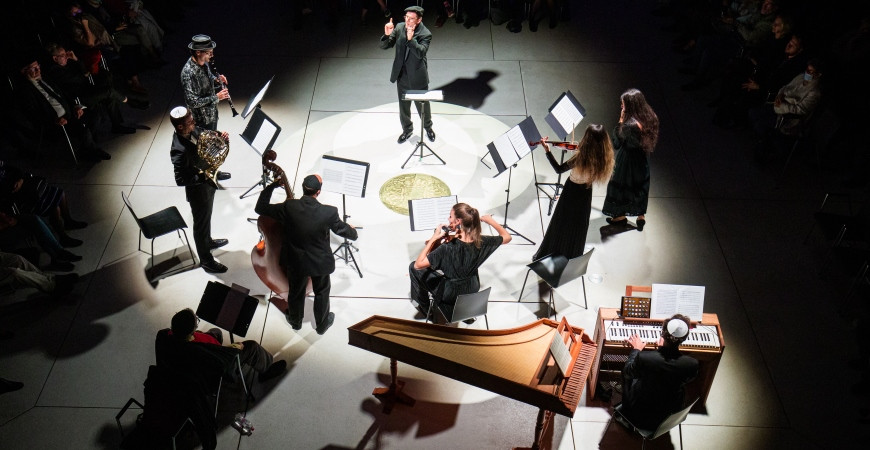 8 January 2022, 19.00-21.00
Solti Hall
Here and Now
Metrum Ensemble
At Home in Europe
Clara Iannotta: The people here go mad. They blame the wind.
Abigél Varga: Es liegt der heiße sommer (to the poem by Heinrich Heine)
Kagel: Phantasiestück
INTERMISSION
Luciano Berio: Sequenza XIVb (2004) version for solo double bass
József Sári: Two Kosztolányi songs
Mesías Maiguashca: "...I can breathe..."
Metrum Ensemble: Anna Rákóczy (flute), Andrea Nagy (clarinet), Eszter Agárdi (cello), František Výrostko (double bass), László Kéringer (vocals), László Borbély (piano), Zsolt Deli (accordion), Bálint Baráth (piano, electronics)
Artistic director, conductor and featuring on clarinet: Lajos Rozmán
Metrum Ensemble have compiled their programme for the Transparent Sound New Music Festival from works by British, Hungarian, Argentinian, Italian and Ecuadorian composers. The common thread running through all the artists representing a wide spectrum of styles, attitudes and creative habits is that at one time or another they have all lived, or are still living, in Germany, thus they have a close connection to German culture and the tradition of German music. The older generation is represented by two South American composers, Mauricio Kagel (1931–2008) and Mesías Maiguashca (1938); both are deeply embedded in German music culture. Indeed, Maiguashca, who started in the Stockhausen workshop, is a leading figure in contemporary electronic music. Rebeca Saunders and Clara Ianotta are not only active in modern German music life as composers but also in teaching and curating. Hungarian József Sári spent long periods living in Germany in the 1970s and 1980s, while his compatriot Abigél Varga is currently working there on a scholarship.
Presented by
Liszt Academy Concert Centre, Transparent Sound New Music Festival, Pro Progressione
Supporter:
National Cultural Fund of Hungary, Goethe-Institut Budapest
Tickets:
HUF 1 900, 2 900
Concert series: