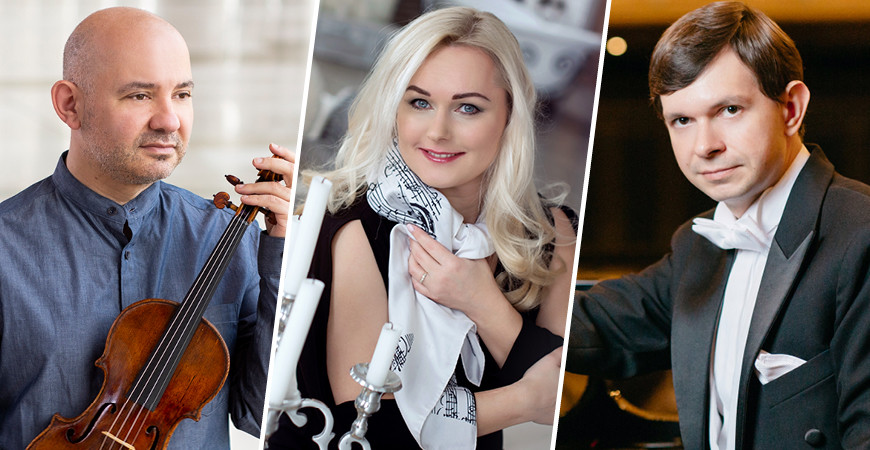 24 January 2022, 19.00-21.00
Solti Hall
Chamber music, so close
István Lajkó, Vilmos Oláh & Yvette Mondok

Presented by Liszt Academy
Time change
Medtner: Sonate-Vocalise mit einem Motto 'Geweihter Platz' von Goethe, Op. 41/1
Medtner: Sonata-Ballada, Op. 27

INTERMISSION

Medtner: Sonata for Violin and Piano No. 2 in G major, Op. 44
Yvette Mondok (soprano), Vilmos Oláh (violin), István Lajkó (piano)
The joint concert of Yvette Mondok, István Lajkó and Vilmos Oláh serves up a careful pick from the oeuvre of Russian composer and pianist Nikolai Karlovich Medtner (1880–1951) who died seventy years ago. Three works by the post-Romantic composer, who for many years was at best mentioned merely as a contemporary of Scriabin and Rachmaninov, but who is now attracting much more interest in his own right, are performed tonight, representing the creative period of the 1910s-20s. The 1922 Sonata-Vocalise is reminiscent of the famous Rachmaninov hit in its name; although text-free, yet with its motto it evokes the title of the Goethe poem with antique tonality (Geweihter Platz) that raises the images of Olympus, gods, muses and nymphs. The other two works in the programme by the composer occasionally somewhat misleadingly called the 'Russian Brahms' are Sonata-Ballada for piano (1914) and the second G major violin-piano sonata, 'Medtner's spring sonata', composed in exile.
Dear Audience! We regret to inform you that the 24 January 2022 date of the Chamber Recital of István Lajkó, Vilmos Oláh & Yvette Mondok has been changed due to illness. The concert will be held on 17 March 2022 with the same programme. Tickets purchased are valid for the new date. Thank you for your kind understanding.

Presented by
Liszt Academy Concert Centre
Supporter:
This concert was supported, in line with the Government decree 1290/ 2020. (VI.5) related to cultural institutions, in order to ease the economic difficulties caused by the Covid19 pandemic. 
Tickets:
HUF 2 900, 3 900