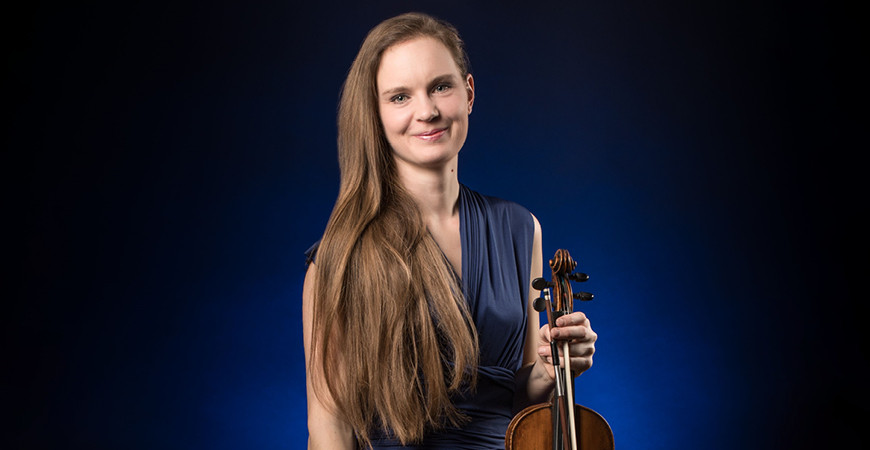 25 January 2022, 19.00-21.00
Solti Hall
Kata Borsos Violin DLA Concert

Presented by Liszt Academy
J. S. Bach: Violin Partita No. 2 in D minor, BWV 1004 – 5. Chaconne
Barnabás Dukay: Velünk az Isten – instrumental motet
Pēteris Vasks: Lonely Angel

INTERMISSION

Veress: Solo Sonata
Gallo: Trio Sonata No. 1 in G major
Stravinsky: Suite Italienne
Kata Borsos (violin)
Featuring: Gergő Zoltán Varga (piano)
Soma Dinyés (harpsichord)
Musicians of Anima Musicae Chamber Orchestra
In order to be awarded a doctor of liberal arts degree, the candidate has to show independent research work carried out in his/her specialist field and the results of related creative work. In the case of music, this means not only the penning of a meritorious doctoral dissertation but compiling a high quality concert, too. In the first half of Kata Borsos's doctoral finals concert, in the wake of Bach's highly challenging Chaconne there are two instrumental pieces in which the respective composers testify without words about their connection to the transcendental spheres. The second half of her concert is bookended by works reflecting on the Baroque period by a major Hungarian composer of the 20th century as well as one of the central figures of Western music history. Sandwiched between these two is an 18th century chamber piece that served as the inspiration for the closing number, Stravinsky's suite.
Presented by
LFZE Doctoral School
Supporter:
Tickets:
Free tickets can be claimed at the Ticket Office of the Liszt Academy one month before the concert.