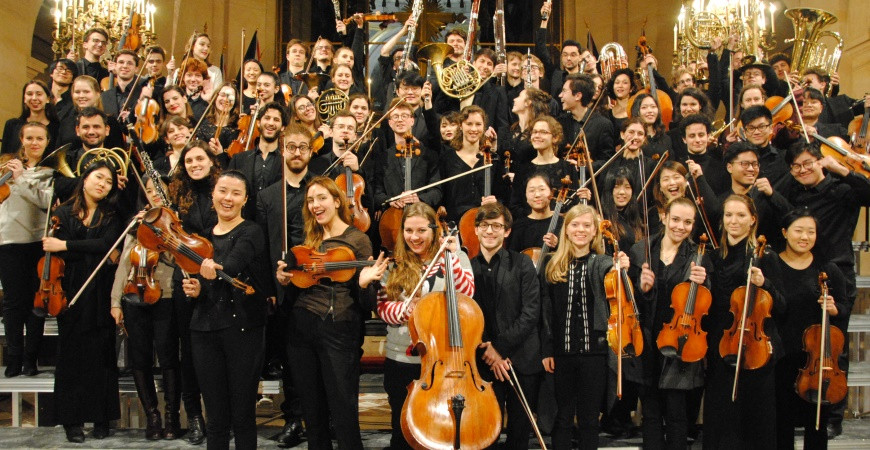 1 February 2022, 19.30-22.00
Grand Hall
Schoenberg & Mahler
Orchestral Recital of the Conservatoire National Supérieur de Musique et de Danse de Paris and the University of Music & Performing Arts Vienna
Time change
Schoenberg: Five Pieces for Orchestra, Op. 16 (arranged by Felix Greissle for chamber orchestra)
Mahler: Symphony No. 4 in G major (arranged by Klaus Simon for chamber orchestra)
Miriam Kutrowatz (soprano)
Orchestra formed by the students of the Conservatoire national supérieur de musique et de danse de Paris and the Universität für Musik und darstellende Kunst Wien
Conductor: Jaime Wolfson
The dramatic concert recital by CNSMDP – Conservatoire National Supérieur de Musique et de Danse de Paris and mdw – University of Music and Performing Arts Vienna marks a new station in the extraordinarily promising orchestral collaboration between these two institutions. Chamber orchestral works by the two prominent representatives of Viennese Modernism: Gustav Mahler's symphony in G major (No. 4) is endowed with near grotesque humour due partly to the difference between tonality and content. This concert has mdw revealing a chamber music version that students of mdw themselves rewrote. Conductor Jaime Wolfson and soprano Miriam Kutrowatz stage the occasionally awkward, occasionally cheerful parts of the masterpiece. Throughout his life, Arnold Schönberg referred to Gustav Mahler as one of his greatest role models. The works of the two composers are the most outstanding examples of the post-Romantic style. Schönberg was convinced that the inexpressible could only be grasped in free form – the impulsive tonality of his Five Pieces for Orchestra belongs among his most important atonal compositions, which is performed by Felix Greissle in a version orchestrated for chamber ensemble. We can be certain of receiving an exciting concert starring international gifted artists of the future.
Dear Audience,
We regret to inform our audience that the 1 February 2022 date of the Orchestral Recital of the Conservatoire National Supérieur de Musique et de Danse de Paris and the University of Music & Performing Arts Vienna has been changed. The concert will be held on 28 June 2022 with the same programme. Tickets purchased for 1 February 2022 are valid for 28 June 2022.
Thank you for your kind understanding!
Presented by
Conservatoire National Supérieur de Musique et de Danse de Paris, mdw - University of Music and Performing Arts Vienna, Liszt Academy Concert Centre
Tickets:
HUF 1 800, 2 300, 2 900