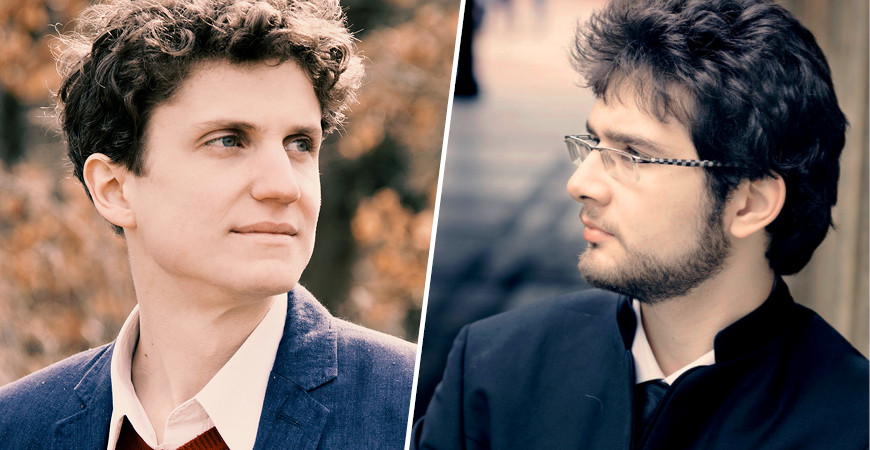 16 May 2022, 19.30-22.00
Grand Hall
The piano twice 2022
Zoltán Fejérvári & Roman Rabinovich

Presented by Liszt Academy
Stravinsky: Concerto for Two Pianos
Poulenc: Concerto for Two Pianos and Orchestra in D minor (version of without orchestra)

INTERMISSION

Schumann: Bilder aus Osten, Op. 66
Brahms: Variations on a Theme by Haydn, Op. 56b
Roman Rabinovich, Zoltán Fejérvári (piano)
The penultimate concert in The Piano Twice series features a double piano recital by two outstanding pianists known first and foremost as soloists. Roman Rabinovich's victory at the 2008 Rubinstein International Piano Competition guaranteed him a place on the global concert scene. Critics have lauded his established technique, impressive musical memory and unique interpretation. For this concert, Rabinovich's partner is Zoltán Fejérvári, a leading member of the rising generation of Hungarian pianists. Stravinsky's double piano Concerto was completed in 1935; at the world premiere it was performed by the composer and his son Soulima. After Poulenc's refreshingly brilliant and airy double piano concerto it is the turn of the Schumann four-hand cycle Bilder aus Osten, six romantic, poetic impromptus. The concert ends with Brahms's Haydn Variations, this time not in the orchestral, but in the less-known (although still from the hand of Brahms himself) double piano version.
Stream free of charge at the
Online Concert Hall,
 Facebook page and Youtube channel of the Liszt Academy.
Presented by
Liszt Academy Concert Centre
Tickets:
HUF 3 200, 4 700, 6 200, 7 500, 8 900
Concert series:
Other events in the concert series:
The Piano Twice 2022
Grand Hall