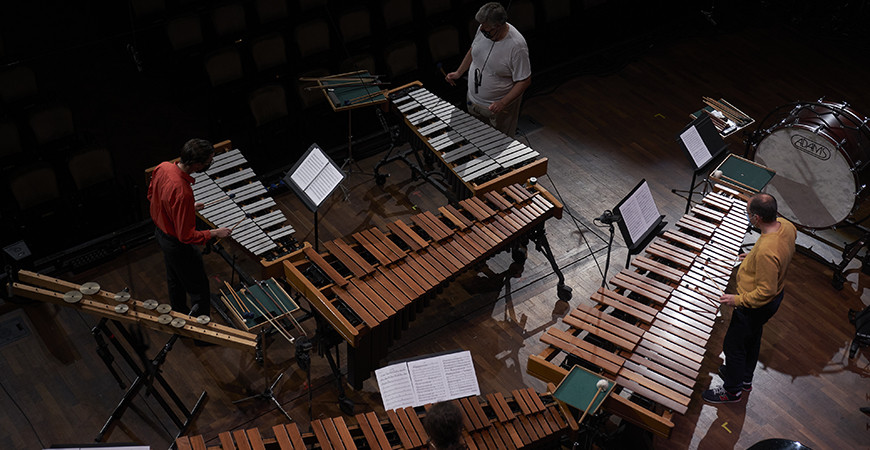 3 November 2022, 19.00-21.30
Solti Hall
Here and now
Amadinda Percussion Project/1

Presented by Liszt Academy
Aurél Holló – Zoltán Váczi: Traditions I. THE WINNING NUMBER / beFORe JOHN7
Debussy: Estampes – 1. Pagodes
Bartók: String Quartet No. 4, BB 95 – 4. Allegretto pizzicato
Bob Becker: Unseen Child
J. S. Bach: Concerto for Two Harpsichords in C major, BWV 1061 – 1st movement
Bob Becker: Mudra
INTERMISSION

Debussy: Children's Corner – 6. Golliwogg's Cakewalk
Joplin: The Ragtime Dance
Norvo: Knockin' on Wood
Emmanuel Séjourné: Martian Tribes
Elliot Cole: Postludes No. 6 & 8
Amadinda Percussion Group: Aurél Holló, Zoltán Rácz, Zoltán Váczi (percussion)
Amadinda Percussion Project: Dániel Láposi, Kornél Hencz, Dávid Onozó, Bence Siptár, Dávid Burcsik, Kristóf Urbán, András Simon, Benjámin Mohácsi (percussion)
Mátyás Sirokai (percussion)
Past & Future 3 November 2022, Liszt Academy - 10 November 2022 Indianapolis (IN) USA. One week before they bid farewell to the international percussion community in Indianapolis as one of the highlights at the Percussive Arts Society International Convention, the world's largest professional event, Amadinda and the Amadinda Percussion Project will perform at the Liszt Academy with the same programme. The members of the group take the stage with some of the most talented young Hungarian percussionists in Budapest and in the USA. The Amadinda Percussion Group's career of more than three and a half decades is a particularly rich and internationally influential chapter in the history of modern instrumental performance. In the case of such groundbreaking ensembles, the number of premieres, the long list of composers closely associated with the ensemble, and the new works that have achieved a level of popularity comparable to classical works since their premiere are mostly remembered. What is less often mentioned, however, is perhaps more important than anything else, the fact that these groups sometimes become workshops that raise and define the taste and skills of generations. Amadinda has been such a workshop for decades. Over the past years, students who have been associated with the ensemble in a variety of ways have become leading exponents of the domestic percussion performing arts, carrying on the Amadinda spirit in the most important large orchestras and contemporary ensemble formations. Responsible to pass on the knowledge and experience they have accumulated over the decades, Amadinda launched the Amadinda Percussion Project, a programme which involves younger generations of musicians in their work, under the direction and with the participation of the members, to create exciting chamber music concerts.
We offer an independent discount scheme for the concerts organized by the Liszt Academy. The discounts available are:
10% discount for the simultaneous purchase of tickets for two different concerts;
15% discount for the simultaneous purchase of tickets for three different concerts;
20% discount on the total purchase price if you buy tickets for four or more different concerts at the same time.
Presented by
Liszt Academy Concert Centre
Tickets:
HUF 3 500, 4 900