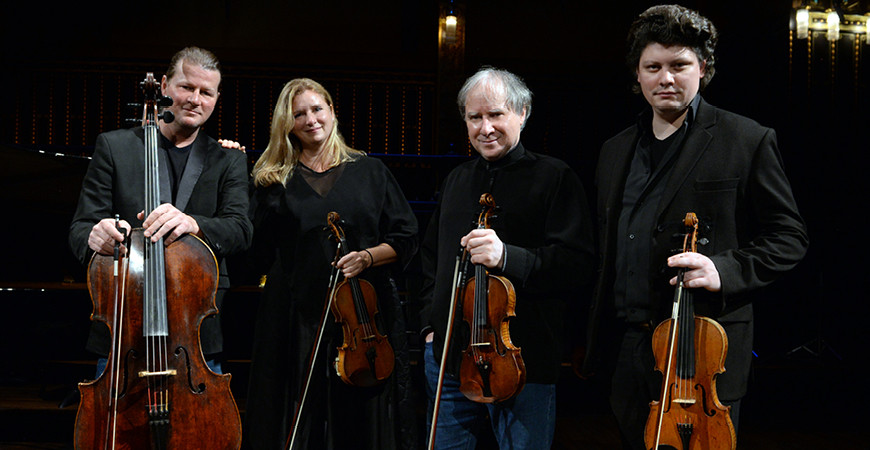 3 November 2022, 19.30-22.00
Grand Hall
Four by Four +1 2022
Dezső Ránki & Keller Quartet

Presented by Liszt Academy
Cancelled
Schubert: Piano Quintet in A major, D. 667 ('The Trout')

INTERMISSION

Shostakovich: String Quartet No. 8 in C minor, Op. 110
Tchaikovsky: String Quartet No. 1 in D major, Op. 11
Dezső Ránki (piano)
Keller Quartet: András Keller, Zsófia Környei (violin), Gábor Homoki (viola), László Fenyő (cello)
There are concerts where the musicians are so brilliant that the audience couldn't care less what they are playing. Then there are concerts where the programme is comprised of such popular pieces that nobody cares who is playing them. Then there is this recital where double Kossuth Prize laureate Dezső Ránki plays with Keller Quartet (founded in 1987) and the programme features three major masterpieces. The programme opens with the five-movement Trout Quintet, which introduced the public to the then unknown violin-viola-cello-double bass-piano combination, and in the variation movement of which Schubert also developed an earlier popular melody. Shostakovich makes similar self-references in his most famous string quartet – only from many more works. The concert closes with another Russian string quartet, Tchaikovsky's first attempt, and his greatest success, in the genre.
Dear Audience,
Please be informed that the concert of Dezső Ránki and the Keller Quartet on 03.11.2022 is cancelled.
Tickets purchased at the ticket office will be refunded at the place of purchase until the day of the concert. In case of tickets purchased online, our ticketing partner will automatically refund the ticket price, so there is nothing for you to do.
Presented by
Liszt Academy Concert Centre