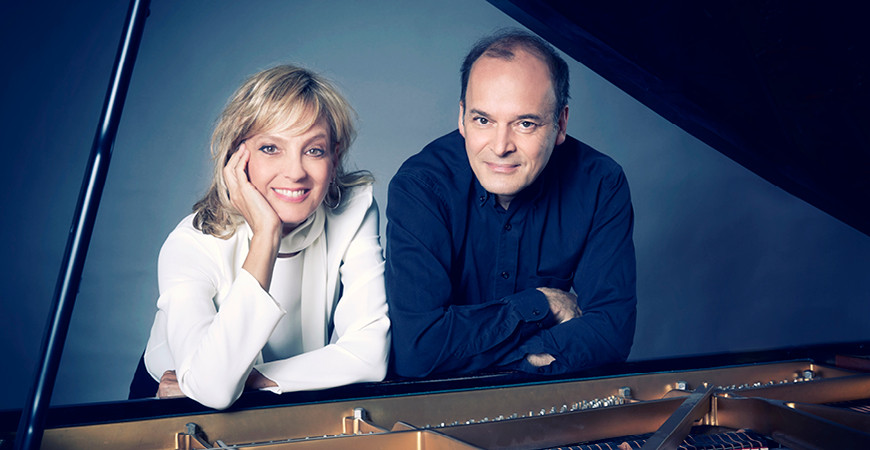 4 November 2022, 19.30-22.00
Grand Hall
The Piano Twice 2022
Louis Lortie & Hélène Mercier

Presented by Liszt Academy
Cancelled
Rachmaninov: Suite No. 1, Op. 5 ('Fantaisie-tableaux')
Debussy–Caplet: La Mer
INTERMISSION
Rachmaninov: Symphonic Dances, Op. 45 (version for two pianos)
Louis Lortie, Hélène Mercier (piano)
The story of the duo comprising two Canadian pianists, Louis Lortie and Hélène Mercier, stretches back decades, thus the experience of their chamber music formation with a long history comes into play. In Debussy's symphonic poem The Sea, the audience is treated to the transplantation of exciting orchestral timbres and delicate tonal nuances into the piano. The writing of Rachmaninov's first suite (Fantaisie-Tableaux, 1893) coincided with disturbing events. The then 20-year-old Rachmaninov dedicated the work to Tchaikovsky, who accepted the invitation to attend the premiere but died just a few weeks before completion of the work – all of these waves of emotion are articulated in the music with surprising maturity. While Suite No. 1 reflects the composer's youthful fervour, Symphonic Dances completed in 1940 is far more reflective. The world premiere in 1942 saw Rachmaninov and Vladimir Horowitz on stage, with the great composer in the twilight of his life.
Dear Audience,
Please be informed that the concert of Louis Lortie and Hélène Mercier on 04.11.2022 is cancelled.
Tickets purchased at the ticket office will be refunded at the place of purchase until the day of the concert. In case of tickets purchased online, our ticketing partner will automatically refund the ticket price, so there is nothing for you to do.
Presented by
Liszt Academy Concert Centre
Tickets:
HUF 6 200, 7 500, 8 900