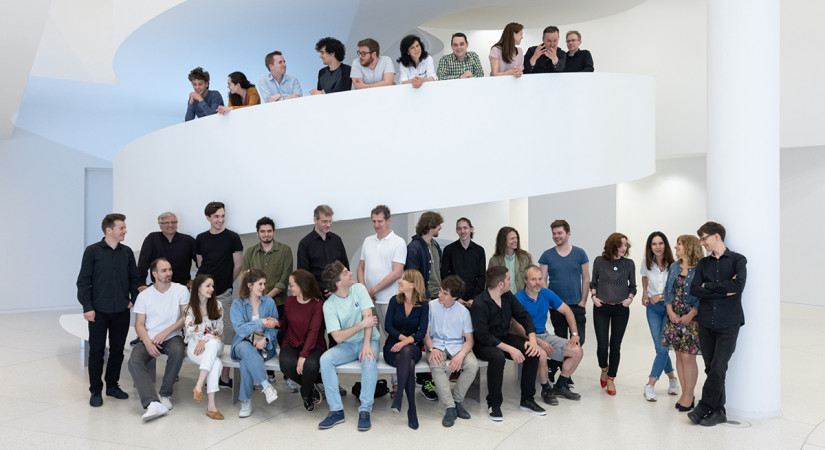 7 January 2023, 19.00-21.00
Solti Hall
Here and now
Ramifications in Ligeti
Transparent Sound New Music Festival - Opening Concert
Ockeghem: Requiem – Introitus: Requiem aeternam
Balázs Horváth: POLY
Ligeti – Hans Abrahamsen: En suspens
Ockeghem: Requiem – Kyrie
Ligeti – Dániel Láposi: Metal
Ligeti – Ákos Lovász: Continuum
Ligeti – Matej Bonin: Hungarian Rock
Ockeghem: Requiem – Offertorium: Rex gloriæ
Ligeti – Hans Abrahamsen: Arc-en-ciel
Marcell Dargay: Music for Clones and Clowns
Ockeghem: Requiem – Offertorium: Quam olim
Budapest Sound Collective
Conductor: Gergely Dubóczky
The backbone of Budapest Sound Collective's concert program dedicated to György Ligeti is composed of homage pieces dedicated to him, as well as arrangements of his works written for piano and harpsichord. A new portrait of the master emerges through authors searching for and reflecting on Ligeti's musical world; the contours of the portrait are given by the movements of the Ockeghem Requiem, which is likely the first recorded and composed funeral mass in the history of European music, and which was a source of inspiration for Ligeti. Before the concert, Dargay Marcell and Gergely Dubóczky will give an opening lecture starting at 6pm, which is open to anyone with a ticket for the evening concert.
We offer an independent discount scheme for the concerts organized by the Liszt Academy. The discounts available are:
10% discount for the simultaneous purchase of tickets for two different concerts;
15% discount for the simultaneous purchase of tickets for three different concerts;
20% discount on the total purchase price if you buy tickets for four or more different concerts at the same time.
Presented by
Liszt Academy Concert Centre, Transparent Sound New Music Festival, Pro Progressione
Supporter:
National Cultural Fund of Hungary
Tickets:
HUF 2 500