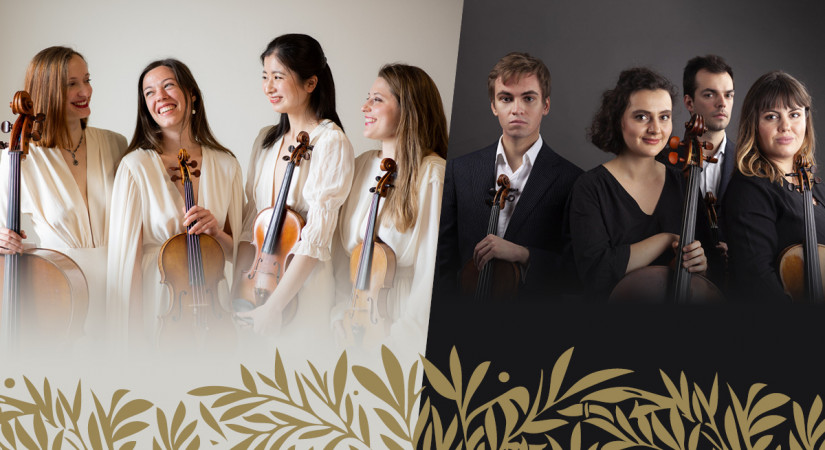 26 March 2023, 19.00-21.00
Solti Hall
Talents of the European Chamber Music Academy II.

Presented by Liszt Academy
Encounter of string quartets
Brahms: String Quartet No. 2 in A minor, Op. 51/2
Webern: Five Movements, Op. 5 – 1. Heftig bewegt, 2. Sehr langsam, 3. Sehr lebhaft
MOSER STRING QUARTET: Kanon Miyashita (violin), Patriciai Muro (violin), Ariadna Bataller (viola), Lea Galasso (cello)

INTERMISSION

Beethoven: String Quartet No. 7 in F major, Op. 59/1 ('Razumovsky')
QUATUOR METAMORPHOSES: Mathilde Potier, Pierre Liscia-Beaurenaut (violin), Jean-Baptiste Souchon (viola), Madeleine Douçot (cello)
The European Chamber Music Academy (ECMA) has been an outstanding success throughout almost two decades of activity. The ultimate goal of ECMA is to provide fertile ground for shaping the musical world of the future, with a particular emphasis on chamber music. Artistic independence, bold experimentation and openness are among the hallmarks of the activities of ECMA, just as preserving and passing on the heritage of European chamber music. The international programme ECMA PRO was brought into being to serve as a workshop for young, exceptionally talented ensembles. The programme does not only enable participants to enhance their knowledge in master classes, but also to introduce themselves in high-profiled festival performances and showcase concerts. The Liszt Ferenc Academy of Music was pleased to join the programme.    
Although the Moser String Quartet from Basel, Switzerland, was founded only three years ago, they have already impressed critics and audiences, and attracted concert organisers' attention. The ensemble members have participated in a number of master classes with acknowledged tutors like Péter Nagy, Steven Isserlis, Tabea Zimmermann, Patrick Jüdt, and Simone Gramaglia. Just one year after their 2020 debut, the ensemble received the second prize at the Orpheus Swiss Chamber Music Competition, and last year they ranked first at the Gran Premi Musical Lauredià competition in Andorra.
The busy concert schedule of the Quatuor Métamorphoses from Paris, France, displays their wide repertoire. The quartet attended master classes with Alfred Brendel, Johannes Meissl, Hatto Beyerle, and Patrick Jüdt, and they also received artistic training from the members of Quatuor Modigliani and Quatuor Ébène. Since 2020, they have been working as resident artists at the ProQuartet Academy. The "ProQuartet" Award at the FNAPEC European Competition, the prizes granted by the Philharmonie de Paris, the Ravel Academy, as well as by the Villefavard and Royaumont Foundations are the most prominent among their competition successes, providing both concert and recording opportunities.
Presented by
Liszt Academy Concert Centre
Tickets:
Admission is free, subjected to the capacity of the room.