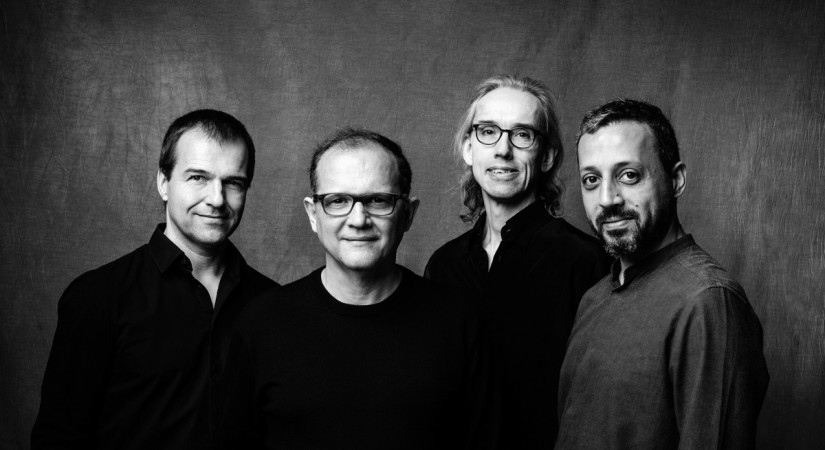 5 May 2023, 20.00-22.00
Grand Hall
Anouar Brahem Quartet
Anouar Brahem (oud), Klaus Gesing (bass clarinet, soprano saxophone), Björn Meyer (bass guitar), Khaled Yassine (percussion)
For almost forty years and with a current discography spanning no less than 11 albums on the ECM label, Anouar Brahem has been constantly placing the age-old tradition of Arab music, whose emblem is his oud and its superb finesse, in different situations; not only does he set it in contrast against the free spirit and improvisation so typical of modern jazz, but also against the sophisticated harmonies of the erudite compositional tradition of the West and the refined forms of composition in other ancient cultural traditions from the Orient.
He has organized numerous cross-cultural encounters as well as juxtaposing different musical universes, thereby producing unsuspected potential in new but familiar-sounding combinations, something which had never been done before. In 2009, he recorded The Astounding Eyes of Rita, with a new group that included the soft melding of two sounds: the amazing fluidity of German-born Klaus Gesing on bass clarinet and the flowing notes on the bass guitar of Swedish-born Björn Meyer, to give a mixture of ascetic sophistication and sensuous lyricism so typical of oriental music, declined here by the music of the oud with its notes closely interwoven into the percussive background, played by Lebanese artist, Khaled Yassine. This group has had worldwide success, both for its rich repertoire and the subtlety of the varied instrumentation, and now, ten years later, it is not only totally up-to-the-minute and more enduring and creative than ever, but Brahem had made a secret pact with himself never to look back, and also vowed to renew his inspiration constantly by accompanying each new project with unusual orchestral combinations. So here, recognizing the lasting qualities of this group, he decided to add a new chapter to this story.
His main resource has been these years of shared experiences with the group, where their coherence and self-confidence has been increasing all the time. Anouar Brahem's new adventure includes the challenge of putting the idiom and specific qualities of the group before a new repertoire. Moreover, he also puts his own terrain through the prism of this particular sound universe once again, daring to cast a backward glance at his whole career by mixing a few familiar compositions of the quartet with a scattering of older themes from other projects. This leads to further exploration of the orchestral possibilities of a decidedly unusual instrumentation whose origins lie in an extremely up-to-date kind of cross-cultural chamber music. Within this hugely expansive space, Anouar Brahem and his fellow-musicians create a softly refined, graceful and dream-like world, borrowed as much from the contemplative oriental tradition as from jazz. The resulting music, rigorously demanding and poetic, moves constantly between modesty and sensuality, nostalgia and contemplation: it is a magnificently intimate spiritual journey to the heart of sound.
Presented by
Jazzfest Budapest, Zeneakadémia Koncertközpont
Tickets:
HUF 2 990, 7 990, 11 990, 14 990, 17 990