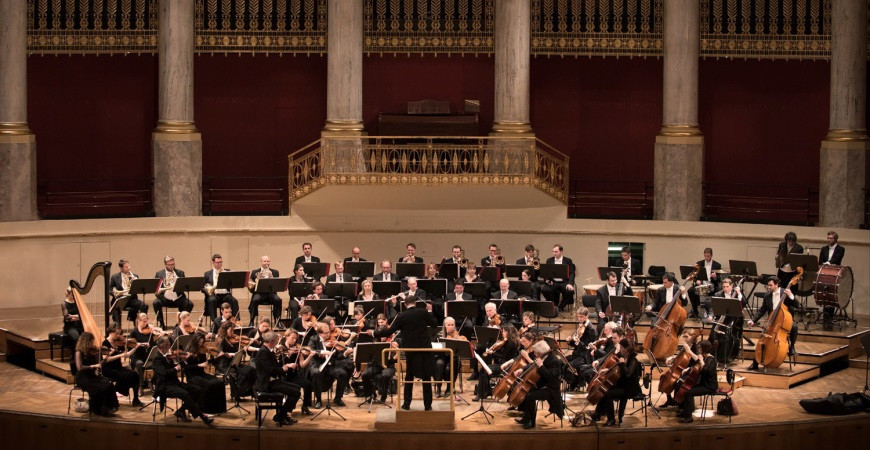 20 May 2021, 19.30-22.00
Grand Hall
Orchestra in the Centre Spring 2021
Dénes Várjon & The Vienna Chamber Orchestra

Presented by Liszt Academy
Streamed only
Mozart: Symphony No. 1 in E-flat major, K. 16
Mozart: Piano Concerto No. 12 in A major, K. 414

INTERMISSION

Mendelssohn: String Symphony No. 10 in B minor
Mendelssohn: Piano Concerto in A minor
Dénes Várjon (piano)
The Vienna Chamber Orchestra
Host:Endre Tóth
Two wunderkinder, early compositions, mature moments – this could be the subtitle of this concert. Mozart was just eight when he set his first symphony to paper. It reveals the strong influence of Leopold Mozart and Johann Christian Bach, while containing the composer's four-note motif famous in his last 'Jupiter' symphony. The piano concerto is the work of 26-year-old Mozart, who wrote the piece rich in melodies (no fewer than six themes can be found in the first movement alone!) and dedicated to the memory of the abovementioned son of Bach the elder, for his own debut in Vienna. By the age of 12–14, Mendelssohn had composed a dozen string symphonies. Meanwhile he found time to write the Piano Concerto in A minor as well, which is frequently unacknowledged by posterity – unworthily so. The fact is that if these works are placed in the right hands, and are performed by such artists as Kossuth Prize laureate Dénes Várjon and Vienna Chamber Orchestra who have worked together with Menuhin, Holliger, Britten, and Barenboim, miracles happen.
Presented by
Liszt Academy Concert Centre
Supporter:
This concert was supported, in line with the Government decree 1290/ 2020. (VI.5) related to cultural institutions, in order to ease the economic difficulties caused by the Covid19 pandemic.