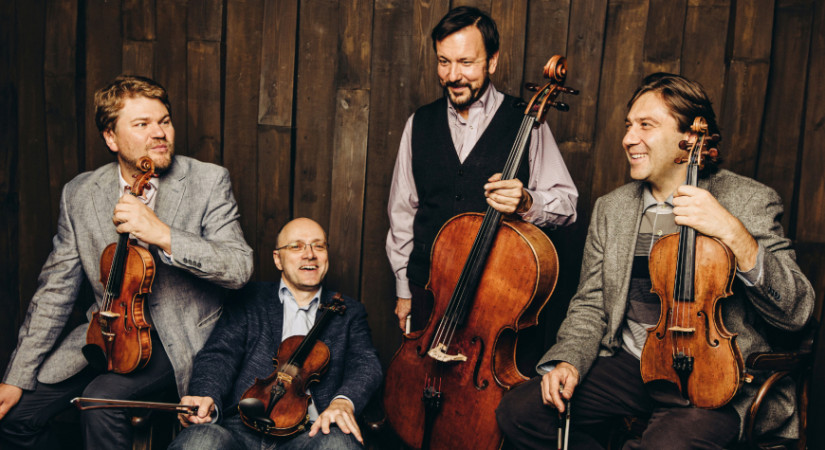 5 October 2022, 19.30-22.00
Grand Hall
Four by Four +1 2022
László Fenyő & Borodin Quartet

Presented by Liszt Academy
Cancelled
Borodin: String Quartet No. 2 in D major
Schubert: String Quartet Movement in C minor, D. 703 (ʻQuartettsatz')

INTERMISSION

Schubert: String Quintet in C major, D. 956
László Fenyő (cello)
Borodin Quartet: Nikolai Sachenko, Sergei Lomovsky (violin), Igor Naidin (viola), Vladimir Balshin (cello)
László Fenyő, in-demand cellist and professor at the University of Music Karlsruhe, is a regular guest of the Liszt Academy: in previous years we have heard him in the company of Ilona Prunyi, Vilmos Oláh, Jiyeong Mun and artists of Festival Academy, whereas this time he is a guest of Borodin Quartet in Franz Schubert's evergreen String Quintet in C major. The quartet, formed in 1945 and rated as setting a benchmark in the world's string quartet culture, are one of the most experienced exponents of the Russian string tradition. Thus it comes as no surprise to find they are also playing the final string quartet by Shostakovich. The composer penned the work in 1974, a year before his death; his good friend Kurt Sanderling considered that Shostakovich wrote his own epitaph in the quartet.
Dear Audience,
Please be informed that the concert of László Fenyő and the Borodin Quartet on 05.10.2022 is cancelled.
Tickets purchased at the ticket office will be refunded at the place of purchase until the day of the concert. In case of tickets purchased online, our ticketing partner will automatically refund the ticket price, so there is nothing for you to do.
Presented by
Liszt Academy Concert Centre
Tickets:
HUF 2 900, 4 200, 5 500, 6 700, 7 900
Concert series: