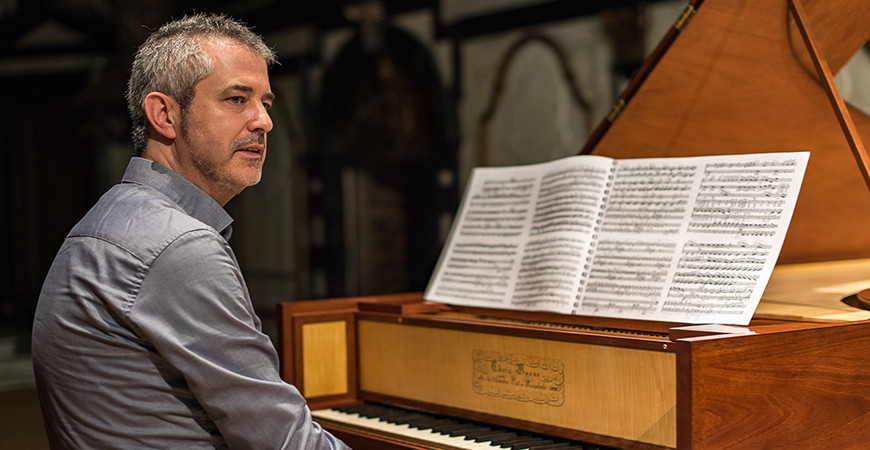 15 September 2022, 19.00-21.00
Solti Hall
Workshops of the Liszt Academy
Tom Beghin

Presented by Liszt Academy
Beethoven: Piano Concerto No. 4 in G major, Op. 58 – 2. Andante con moto
Steibelt: Piano Sonata in G major, Op. 64

INTERMISSION

L. Adam: Piano Sonata in C major, Op. 8/2 – 2. Romance. Andante grazioso un peu animé
Beethoven: Piano Sonata No. 21 in C major, Op. 53 ('Waldstein')
Tom Beghin (fortepiano)
Belgian–Canadian Tom Beghin has been at the forefront of a new generation of interpreters of 18th- and early 19th-century music, he is frequently invited to give concerts, workshops and lectures throughout North America and Europe and has been published in prestigious journals. He served on the faculty at the UCLA and the McGill University. In 2004 the Haydn-Institut inducted him as a member, since 2015 he has been senior researcher at the Orpheus Institute. His concert will include selections from his book on the subject (Beethoven and his French piano) that was published this year.
In October 1803 Beethoven acquired a French piano from the Erard Frères workshop in Paris. The composer was "so enchanted with it," one visitor reported, "that he regards all the pianos made [in Vienna] as rubbish by comparison." At the Orpheus Institute in Ghent, Belgium, a first-ever replica of Beethoven's Erard was built in partnership with Pianos Maene. It allowed Tom Beghin and his group of researchers to try and understand Beethoven's enthusiasm, but then also his increasing frustration, as the instrument underwent a series of technical revisions. These revisions were part of ill-guided attempts to "improve" the Parisian instrument—that is, make it conform to Viennese expectations. By 1810, Beethoven declared defeat: "My French piano is now utterly useless," he wrote. Beethoven's desire to have a French piano may well have taken root in April 1800 when he was cast in a back-to-back duel with Daniel Steibelt. This Berlin-born pianist had long adopted an outspokenly French identity and had made the pianos by Erard Frères his own. Steibelt was especially known to dazzle his audiences with his tremulando magic. In the memory of Beethoven's friends, however, it was Beethoven who came out the clear winner. This recital proposes a re-match: playing an Erard piano en forme de clavecin, was Steibelt "just" the charlatan he was made out to be by German critics; conversely, how well did Beethoven really understand the affordances of his French instrument? As a counterpart for Steibelt's Grand Sonata Op. 64, Tom Beghin will perform Beethoven's "Waldstein" in its reconstituted pre-publication form from a time when Beethoven's French piano was still inspiring unbridled exploration. In addition he is playing a transcription of the slow movement of the Piano Concerto No. 4 and a sonata movement by French composer Louis Adam, who was also a contemporary of Beethoven.
Presented by
Liszt Academy Concert Centre
Tickets:
Admission to the concert is free. Tickets can be claimed at the website and at the Ticket Office of the Liszt Academy one month before the concert.
Concert series:
Other events in the concert series: