Award ceremony of this year's Bartók World Competition on Saturday
22 November 2022
Violin—piano duos were submitted for the 2022 round organised for composers, with violinists Ágnes Langer and Barnabás Kelemen as well as pianist József Balog performing at the gala.
This year's round of the Bartók World Competition, which is organised by Liszt Academy in six-year cycles and offers a prize total of €10,000, was open to composers under 40 years of age, with 98 pieces by 96 composers from 31 countries submitted by the deadline. The largest number of entries was received from the United States (11) and Hungary (9). There were entries from China, Korea, Greece, Italy, Russia, Mexico, Argentina, France, the Visegrad region, Israel, Indonesia, Japan, Australia, Armenia, Iran, Kazakhstan, Ukraine and others as well. Two of the awarded works will be included in the repertoire for the next, instrumental round of the Bartók World Competition in 2023 for violinists.
The winning compositions will be performed at the gala concert open to the public in the Solti Hall of Liszt Academy on Saturday at 7 p.m. The evening will also include Bartók's Rhapsody No 1, Andante and Romanian Folk Dances.
The three prize winners and some of the special awardees will be present in person, but they do not yet know which prize they have won. The president of the international jury, Oscar-winning American composer John Corigliano, will welcome participants and the audience through an online video.
The prestigious panel included Unsuk Chin, a renowned South Korean composer living in Germany and professor at Harvard University, the Russian composer-pianist Kuzma Bodrov, professor at the Gnesin Academy and Tchaikovsky Conservatory in Moscow, Gyula Fekete, Vice-President and Head of Composition Department at Liszt Academy, and Kristóf Baráti, world-renowned Hungarian violinist and Head of Strings Department at Liszt Academy.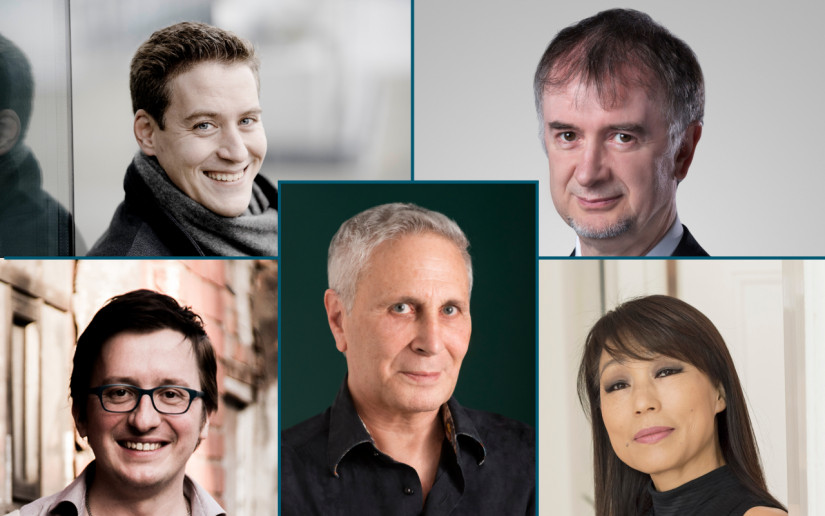 Members of the jury: Kristóf Baráti, Gyula Fekete, Kuzma Bodrov, John Corigliano and Unsuk Chin
The competition, which is supported by the Hungarian state, is unique in that it builds on the most characteristic aspects of Bartók's oeuvre: the violin, the piano and chamber music as well as composition. In even-numbered years between instrumental competitions, Liszt Academy organises composition competitions, and the jury selects winning works to be included in the repertoire of the following year's instrumental competition.
Tickets are still available on the website.