"Bartók was a prophet of the 20th century"
14 September 2019
Liszt Prize-winning pianist Kálmán Dráfi believes that anyone who can give an excellent performance of Bartók can play almost anything else and that therefore one of the greatest geniuses of the 20th century ought to receive a higher stature in the repertoires of Hungarian pianists. A department head at the Liszt Ferenc Academy of Music, Dráfi is a member of the jury for the Bartók World Competition, which is expected to decide late Saturday night who wins this year's piano category.
When you started out as a student at the Academy of Music, Kodály had been dead for two years and Dohnányi was living in America, so you had no direct exposure to any of Bartók's contemporaries. What did Bartók mean to you in your academic years?
I began playing the piano at the age of four, and although I don't remember the very first piece I played, Bartók was surely among the first five. I was five when I first appeared on television, the youngest schoolboy to receive that distinction. I recall playing two small pieces from the For Children cycle. For me, as for most Hungarian children studying music in the 60s and 70s, Bartók was a primary experience, almost a mother tongue. Back then it was clear that he had a place in education, and it was natural for us to grow up with his music. I took part in the Liszt–Bartók International Piano Competition when I was 14 and 19, and clinched the prize for the best Bartók interpretation both times, which was partly due to the fact that music education at that time gave me an ample dose of Bartók's oeuvre. You don't brag about your mother tongue, so it was natural that Bartók just had to be played with excellence.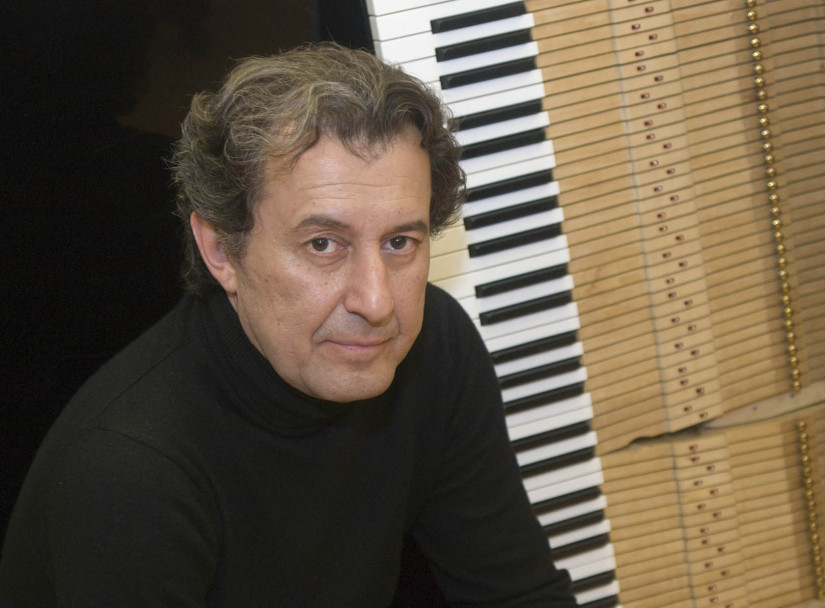 Photo: Liszt Academy/ Andrea Felvégi
There were surely a number of milestones between your first television appearance and your success in a major international competition. When did you start getting a grasp on the inner logic of Bartók's musical world?
I was 14 and a first-year student at the Academy of Music when I heard Sándor Falvai play Bartók's Sonata for Piano. I was shattered. Written in 1926, this piece was a prophecy of the impending Second World War: I am convinced that Bartók was a prophet of the 20th century. The composition opened up a new dimension for me. I learnt it a few months later, and I played it in the second round of the Liszt–Bartók International Piano Competition. Another defining experience for me is Bartók's only opera, his one-act Bluebeard's Castle. For me it's the greatest music of the 20th century, besides Dance Suite. Without a doubt, one has to be well-versed in music to understand it and all the other great pieces by Bartók, but if you are listening with a clear ear, an open heart and keen attention, it will give you a cathartic experience. It is the sum total of the history of music topped by Bartók's genius.
Does it matter whether you come to know Bartók's piano pieces directly or through multiple transpositions by their interpreters? Do you think the original message may have been distorted over time?
Luckily, Bartók's sheet music is so uniquely rich in detail that it probably gives you a better orientation of how to play it than the composer's own interpretation on the very few recordings that have survived. There's no question that Bartók was a genius, but I think that his excellence as a performer was far surpassed by his qualities as a composer. I'm not saying that Bartók was anything less than a fantastic pianist, but I think his creative genius, compared to that of Mozart or Liszt, soared well beyond his performing talent. In my view, if you follow his score closely, it will lead you to the performance envisaged by Bartók himself. Let me add that in the 1970s our generation still received some information about Bartók from students of Dohnányi's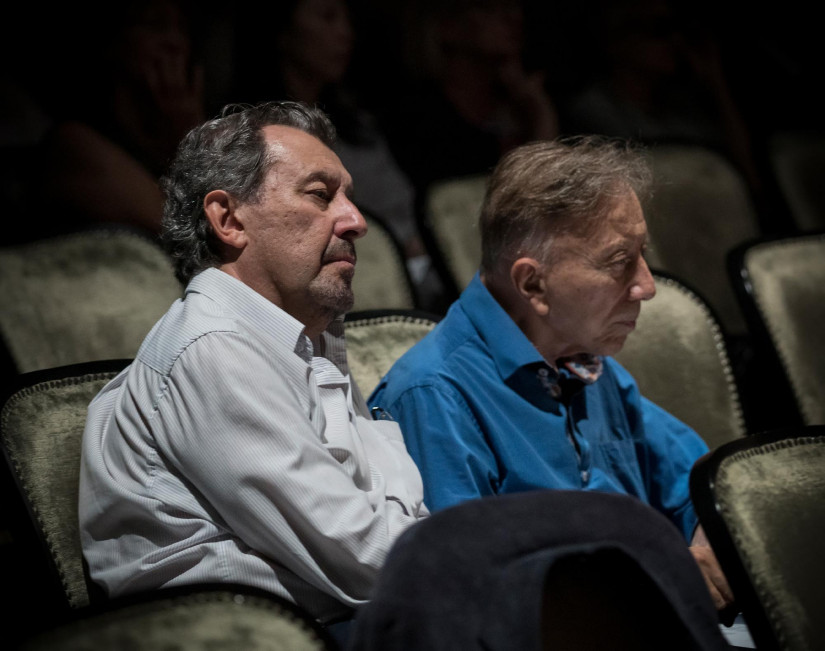 Kálmán Dráfi and Tamás Vásáry at the Bartók World Competition. Photo: Liszt Academy/Andrea Felvégi
In what proportion is Bartók's music present in today's Academy repertoire?
I'm not satisfied in that respect. Undoubtedly, Bartók's compositions are among the most difficult. So if you have a streak of laziness in you, you will go the easy way and avoid or delay coming into contact with his pieces. Some of Bartók's works are always played during the examinations, but certainly not as many as we would like. If you meet the technical standards required to play Bartók, you will be able to play almost anything else. The requirements of Russian piano teaching, the strongest in the world, are far more consistent than ours: Tschaikowsky, Rachmaninoff, Prokofiev, Stravinsky and the others feature in the curriculum and in the repertoires of the youngest pianists. The Russians study piano through the pieces of the hardest-to-play Russian composers, that is, their own musical mother tongue. We too are in a position to raise the general standard of piano teaching even higher by systematically mastering our own musical mother tongue through Liszt's and Bartók's oeuvres.  
What is it about Bartók's piano pieces that endows performers with some special skills?
Bartók's piano technique naturally arises out of Liszt's. If you can master and take full command of that technique, you will face no serious obstacles in playing other great composers. Even Bach. The evolution of the piano as a musical instrument ran in parallel with Liszt's progress as a composer, and acquired its present shape and technical perfection not least because of Liszt's advice. Bartók's modernity takes it one step higher.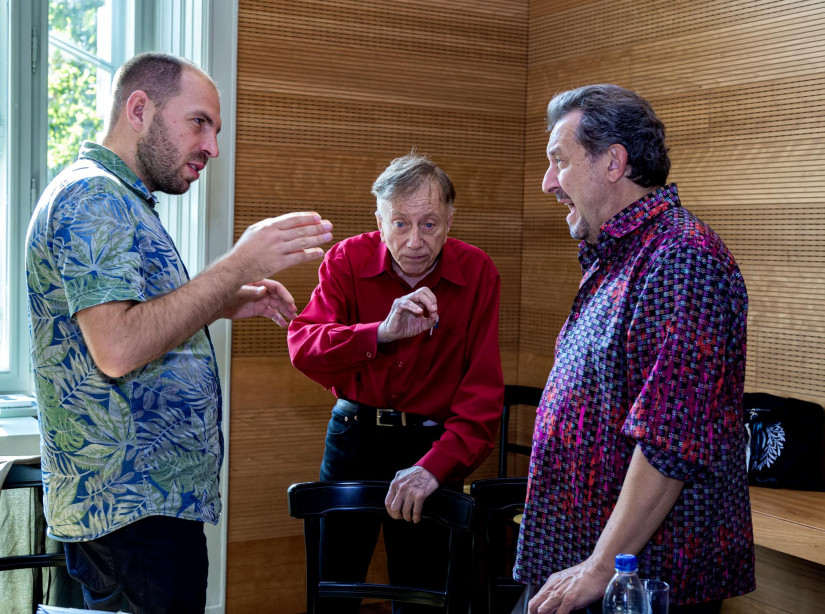 Andrei Korobeinikov, Tamás Vásáry, Kálmán Dráfi. Photo: Liszt Academy/Andrea Felvégi
Competitors in each round of the Bartók World Competition play on Steinway pianos. Does the brand matter?
A good instrument is all-important: the piano and the acoustics are at least half responsible for a successful concert. I once heard Sviatoslav Richter play in a provincial town in Hungary. The piano was less than perfect, to say the least. Typical of Richter, he did not back out, but the concert ended in a fiasco because of the poor instrument. The greater the artist, the more important it is for him to play an instrument that matches his or her qualities. It is no coincidence that Horowitz insisted on playing his own Steinway regardless of the venue. I am proud to say that at the Bartók World Competition we have put a Steinway Model D, Europe's best concert piano, at the competitors' disposal at the Academy of Music. I have played on it several times and I know: it gives you wings.
 Réka Muray-Klementisz