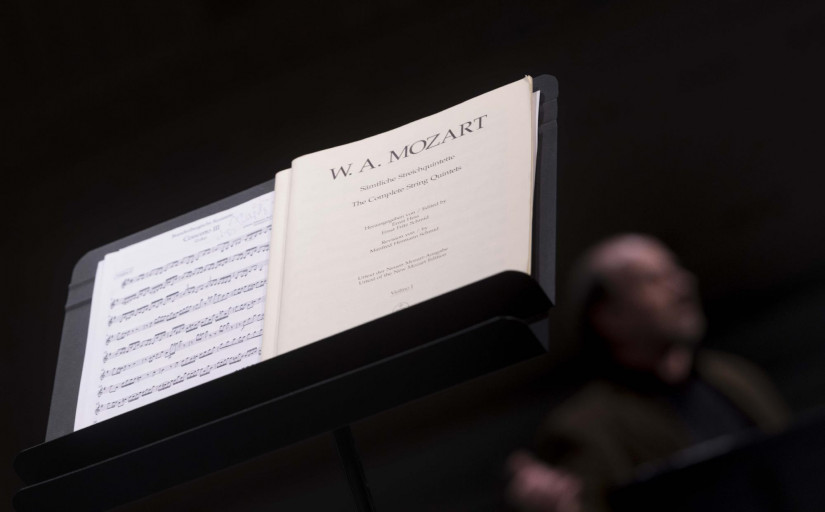 12 November 2018, 19.00-21.00
Solti Hall
COMPOSITION PROJECT BY THE LISZT ACADEMY AND GUILDHALL SCHOOL OF MUSIC & DRAMA

Presented by Liszt Academy
Tornyai Péter: l'alone del silenzio
Mozart: Piano Trio in E-flat major, K. 498 ('Kegelstatt')
Jonathan Woolgar: New piece
Smetana: Piano Trio in G minor, Op. 15
Featuring: Balázs Sándor (clarinet), Eszter Kalocsai (viola), Katalin Gonda (piano)
Mithras Piano Trio: Ionel Manciu (violin), Leo Popplewell (cello), Dominic Degavino (piano)
Currents, the joint collaboration of the music academies of Budapest and Vienna, has been making a significant contribution to the enhancement of international contemporary music discourse since 2015. On each occasion, the two institutions – with the involvement of a third partner and concentrating on a specific topic – organize symposiums, concerts and workshops. In past years, composers have arrived from Prague, Riga and Helsinki, and themes have covered such issues as the contemporary aspects of folk music, and opportunities for the utilization of the double bass, the bassoon and the guitar. This year, in place of the Viennese faculty, the distinguished Guildhall School of Music & Drama is involved in the collaboration. The name may sound familiar to domestic audiences because musicians from the London school debuted in Hungary during the 2016 Opera Exam Festival. This year, the focus of the joint concert is chamber music and the string trio genre.
Presented by
Liszt Academy Concert Centre
Tickets:
Admission to the concert is free. Free tickets can be obtained from the ticket office at the Liszt Academy one month before the concert.