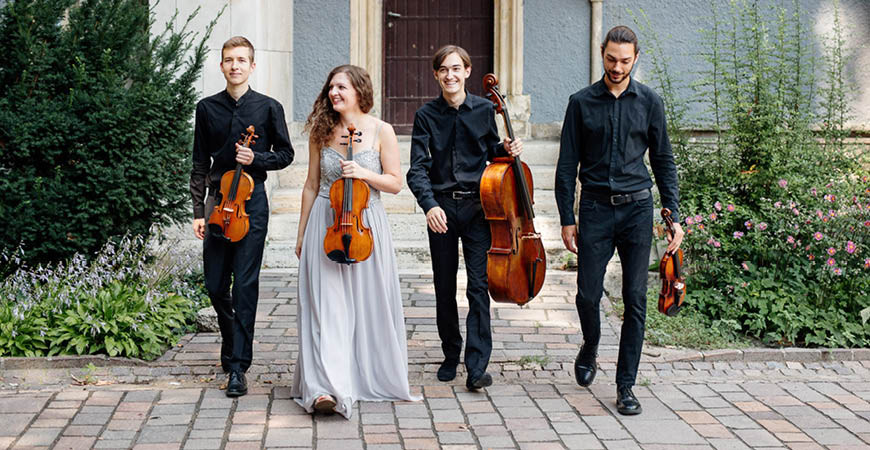 4 December 2021, 19.00-21.00
Solti Hall
Four by four
Korossy String Quartet

Presented by Liszt Academy
Haydn: String Quartet, No. 60 in G major, Hob. III:75 [op. 76/1]
Bartók: String Quartet No. 3, BB 93
Beethoven: String Quartet No. 15 in A minor, Op. 132
Korossy String Quartet: Csongor Korossy-Khayll, Kristóf Tóth (violin), Éva Osztrosits (viola), Gergely Devich (cello)
Korossy String Quartet were formed from such incredibly gifted students of the Liszt Academy that they are today much sought-after as soloists in their own right. The youthful formation first hit the headlines in 2019 when they won the string quartet category of the Weiner Leó National Chamber Music Competition. They were selected by a jury comprising legendary musicians: Tamás Vásáry, Péter Frankl, György Pauk and Béla Kovács. The quartet bearing the name of the principal violinist will begin the programme with the first piece of Haydn's string quartet series op. 76, dedicated to Count Erdődy. Bartók's third string quartet is a piece demanding complex and diverse performance skills. It is avant-garde to its core and still feels like that today. The second segment of the concert is devoted to one of the most famous of Beethoven's string quartets, which due to the mysterious title of its slow movement ('Holy song of thanksgiving of a convalescent to the Deity, in the Lydian mode') remains one of the eternal riddles of music history.

The concert is followed by CODA – which is an informal conversation with the performers.
Presented by
Liszt Academy Concert Centre
Supporter:
This concert was supported, in line with the Government decree 1290/ 2020. (VI.5) related to cultural institutions, in order to ease the economic difficulties caused by the Covid19 pandemic. 
Tickets:
2 900 Ft