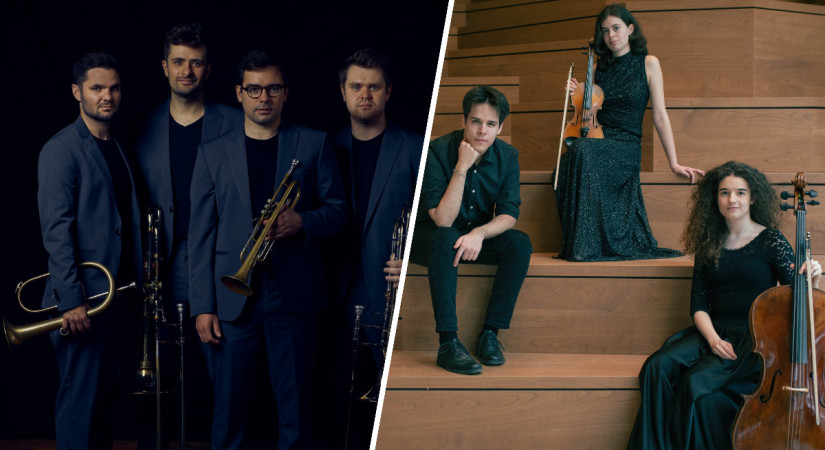 26 March 2023, 16.00-18.00
Solti Hall
Talents of the European Chamber Music Academy I.

Presented by Liszt Academy
Variations on French and Slavonic music
Program change
Performer change
Brahms: Piano Trio No. 2 in C major, Op. 87
Zsófia Fóris (violin), Boglárka Forgó (cello), Áron Lescsinszky (piano)

INTERMISSION

Janáček: On an Overgrown Path – excerpts (arranged by Christian Traute)
Debussy: Chansons de Charles d'Orléans (arranged by Christian Traute)
Simon: Quartet in Sonatina Form, Op. 23/1
MUNICH TETRA BRASS: Luca Chicé, Aljoscha Zierow (trumpet), Christian Traute, Jakob Grimm (trombone)
The European Chamber Music Academy (ECMA) has been an outstanding success throughout almost two decades of activity. The ultimate goal of ECMA is to provide fertile ground for shaping the musical world of the future, with a particular emphasis on chamber music. Artistic independence, bold experimentation and openness are among the hallmarks of the activities of ECMA, just as preserving and passing on the heritage of European chamber music. The international programme ECMA PRO was brought into being to serve as a workshop for young, exceptionally talented ensembles. The programme does not only enable participants to enhance their knowledge in master classes, but also to introduce themselves in high-profiled festival performances and showcase concerts. The Liszt Ferenc Academy of Music was pleased to join the programme.   
Zsófia Fóris, Boglárka Forgó and Áron Lescsinszky have been playing together intensively since 2019. They are constantly working on expanding their repertoire, while each of them have won prizes at numerous competitions. As a trio, they have had the opportunity to perform at the concert halls of the Liszt Academy and the House of Music Hungary. They are currently second-year students at the Liszt Academy, studying chamber music in the class of Péter Kiss. Together they have won 1st prize and special prizes at the 9th National Chamber Music Competition as well as 1st prize and audience prize in the string-piano category at this year's Weiner Leó National Chamber Music Competition.
The Munich Tetra Brass ensemble from Germany can be characterised by creativity, endless curiosity, and experimental openness. They are winning international competitions with the highest scores and they frequently cooperate with contemporary composers. In the framework of the Yehudi Menuhin Live Music Now programme, the Munich Tetra Brass brings music close to people who have reduced access to concert halls due to their life circumstances. During the pandemic, the ensemble developed an interactive application through which children could not only listen to, but also participate in crafting the story of "Peter and the Wolf". Dirk Mommertz and Mike Svoboda are among their distinguished tutors.
Presented by
Liszt Academy Concert Centre
Tickets:
Admission to the concert is free. Tickets can be claimed at the website and at the Ticket Office of the Liszt Academy one month before the concert.