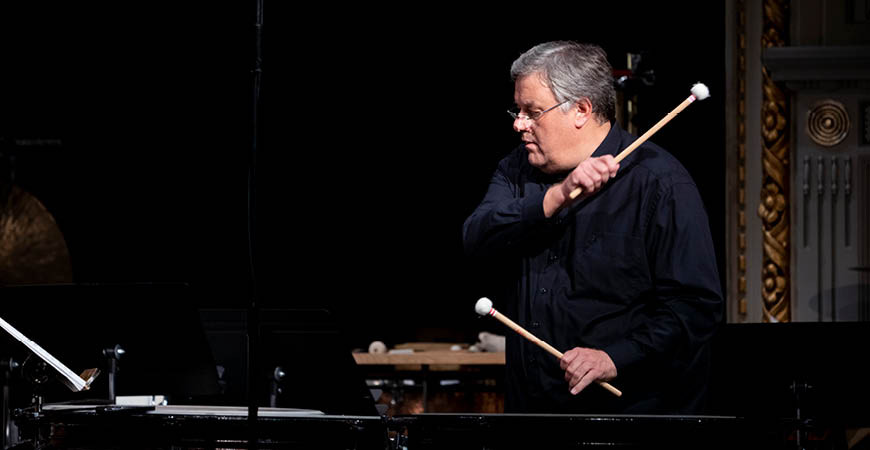 6 December 2021, 19.30-21.30
Solti Hall
Here and Now
Hommage à Zoltán Kocsis

Presented by Liszt Academy
Zoltán Rácz Chamber Recital
New venue
Offline&online
Judit Varga: The Silly President (world premiere)
J. S. Bach: Sonata for Flute and Basso Continuo in C major, BWV 1033
Barnabás Dukay: ..., mint az egyszarvú tükröződő Fény az Örök Időkből Canon, Floridus and Hymnus (world premiere)
Ives: Serenity (orchestration by Barnabás Dukay)
Mozart: Adagio and Rondo, K. 617
Rzewski: To the Earth
Bartók: Sonata for Two Pianos and Percussion, BB 115
Kirill Gerstein, Zoltán Fejérvári (piano)
Károly Bojtos, Aurél Holló, Zoltán Rácz, Zoltán Váczi (percussion)
Zsolt Fejérvári (double bass), József Rácz (violin), Rebeka Drahos (flute), Béla Horváth (oboe), Éva Osztrosits (viola), Gergely Devich (cello)
"All music puts down deep roots," percussionist and conductor Zoltán Rácz, founder of Amadinda Percussion Group and UMZE Chamber Ensemble, once said when celebrating the 40th anniversary of his artistic career. He was speaking in connection with the organic links between the living practice of contemporary music and knowledge of cultural history repertoire, as well as inspiration deriving from traditional cultural forms. The programme of this concert dedicated to the memory of Zoltán Kocsis similarly clearly reflects this inextricably close relationship arising from the most fundamental essence of music: in the programme established from an interweaving of classical and contemporary compositions, space has been given not only to one work each by Johann Sebastian Bach and Mozart but a composition by Barnabás Dukay who thinks in terms of clear poetic images, a piece by Frederic Rzewski that correlates music and speech rhythm, and Bartók's Sonata for Two Pianos and Percussion – in fact, the very same work that in effect launched the performance career of Zoltán Rácz four decades ago. Whereas at that time Zoltán Kocsis and Dezső Ránki played the piano parts, now the world-famous concert pianist Kirill Gerstein, celebrated for his unmistakeably intelligent virtuosity, joins the exceptionally talented Zoltán Fejérvári.

Presented by
Liszt Academy Concert Centre
Supporter:
This concert was supported, in line with the Government decree 1290/ 2020. (VI.5) related to cultural institutions, in order to ease the economic difficulties caused by the Covid19 pandemic. 
Tickets:
HUF 4 100
Concert series:
Other events in the concert series: